How old is my cat in human years?
It's Mature Moggies Week (13-17 November), a chance to celebrate all the senior kitizens snoozing in their forever homes or waiting patiently in Cats Protection's care for a new owner to give them the love they deserve. Older cats take four times longer to home than their younger counterparts, but when exactly does a cat become 'old'?
A survey conducted by Cats Protection revealed that a lot of people are confused by what actually is 'old' for a cat and what their equivalent age is in human years.
For example, 23% of people said that they would consider any cat aged over five years as 'older', but only 16% of people correctly guessed that a five-year-old cat is actually only 36 in human years.
Less than 4% of people knew that a one-year-old cat is 15 years old in human years, as most thought the correct answer was five years old.
This confusion perhaps comes from the fact that there aren't always seven human years to every cat year. The number actually varies, as cats grow up faster in the first few years.
To help you work out how old your cat is in human years, Cats Protection has put together this useful guide…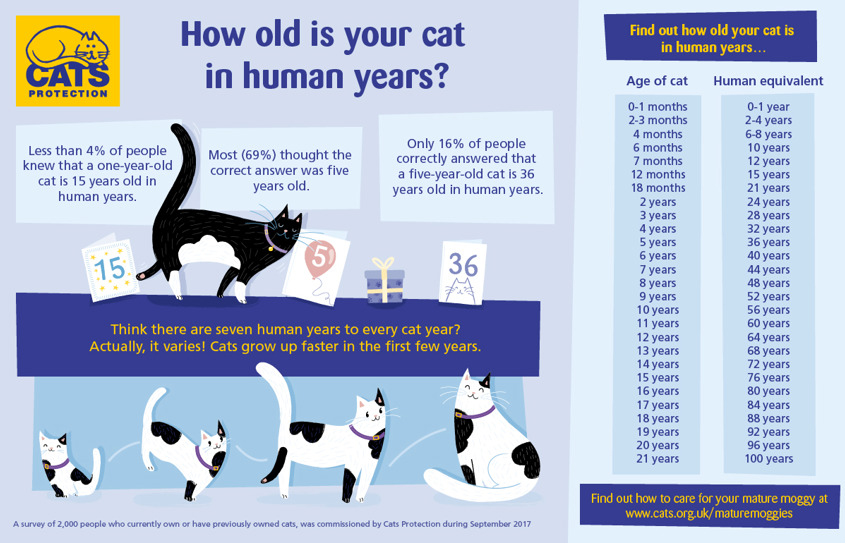 If you're the proud owner of a senior kitizen, show the world just how amazing they are by leaving a comment below or sharing your photos and stories on Facebook, Twitter and Instagram using #MatureMoggies.