Celebrating 16-year-old Cameron Noble following in his mum's footsteps as a volunteer for our Mid Kent Branch this Volunteers' Week (1-7 June)
Volunteering is a family affair for teenage media student Cameron Noble who has become the youngest volunteer for Cats Protection.
The Maidstone Grammar School boy who dreams of being a TV reporter is passionate about animals and the environment, so volunteering for the nation's biggest cat welfare charity was always going to be a perfect fit.
As a fundraising and social media volunteer, Cameron will create content for the branch's social media channels and come up with fundraising ideas to promote the work of Cats Protection locally.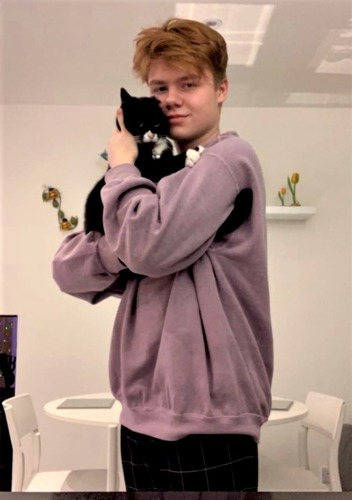 Cameron with his cat Ivy
"Cats and animals have always been in my life," said Cameron. "I've always loved them. Combined with my interest in media and journalism, this is an ideal role for me. I hope that having ambition in these areas will help me in my volunteer role as much as being a success in the role should help me in the future." 
Cameron lives at home with his parents and 13-year-old brother Nathaniel. The family is completed by Ivy, a five-year-old tuxedo cat. "She has a lovely temperament, although she loves to get her own way, like all cats, I guess,' said Cameron. "Ivy is very loving and affectionate and we have enjoyed a strong bond ever since the day we brought her home."
Cameron's mum Debs has been a fosterer for our Mid Kent Branch, so he knew what was involved in volunteering for the charity.
Cameron said: "I have found it especially interesting to see the value cat carers add to the welfare and rehoming of a cat. My brother and I have been helping my mum with her fostering, trying to make breakthroughs with unsettled cats. I find it very inspiring how a bit of time, love and affection can really bring life to a shy or nervous cat.
"It makes me proud to see how much of a positive impact my mum and other volunteers have on the lives of these cats. Now I am both very glad and grateful to be playing my own role and I hope that I can have as much of an impression as they do on the lives of cats in need."
Mid Kent Branch Coordinator Sue Holness said: "Cameron is a mature young man for his age and we are proud to welcome him to our volunteering team. The social media role is growing in importance, especially when appealing to younger people, so as soon as I spoke with him I saw that he would be ideal tor the role. We're all very excited."
The role was proposed during a home visit. Cameron said: "Sue came to see our foster cats and, after getting to know each other a bit, she suggested this role to me. Even though I hadn't considered it, it immediately sounded right. With my love for cats and views on proper welfare and rights for animals, I wanted to take the rare opportunity that was being offered.
"Trying my best to help those in need is important to me. In this case, that means spreading awareness about the good work of Cats Protection. That feels all the more important after seeing the impact a kind heart can have on a life, as with the cats my mum has cared for."
Although the government's COVID-19 guidelines have restricted volunteers, Cameron has used the time constructively to learn the charity's policies and meet his team online and he is already head-down on his first project.
He said: "I am currently working on a video, which will put together all the cats that my mum has fostered to show the positive impact of donations and why they should continue to help.
"I find it rewarding to know that what I am putting together will hopefully bring a few laughs, spread awareness and attract donations for the charity. That motivates me to do my best."
As well as his school work and volunteering for Cats Protection, Cameron still manages to find time to hold down a part-time job in a kitchen and, amazingly, this isn't even his first volunteering stint; he volunteered for six years at the Museum of Kent Life and Cobtree Young Farmers, caring for livestock and farm cats.
Cameron said: "I have always found animals, especially cats, fascinating and enjoyable to be with. I love to see the positive impact that a good social environment has on them, as much as I enjoy seeing how they can make people feel so happy, too."
Volunteers Week (1-7 June) is a chance to showcase and celebrate volunteers and recognise the fantastic contribution they make to communities.
To find out more about volunteering with Cats Protection, visit https://www.cats.org.uk/support-us/get-involved-volunteering