What it's like to be a Cats Protection social media volunteer.
This post has been written by Catherine Orezzi at our Woking & District Branch
I have been volunteering for the Woking & District Branch of Cats Protection for nearly five years. I started as a Home Visitor and then I was Branch Homing Officer for a year. During this time I had become more actively involved with the branch Facebook page and when I stepped away from the Homing Officer role I became the Social Media Editor and I have now been doing that for three years.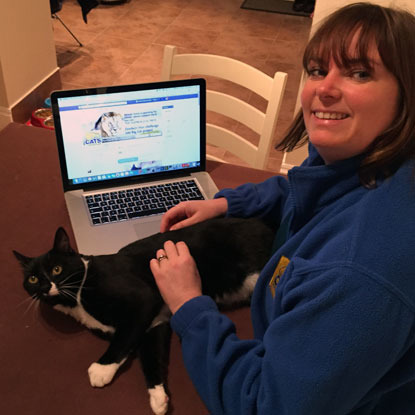 Catherine with Oscar
I have always loved cats and we had adopted two rescue kittens and I wanted to help other cats in need find loving homes too. Plus I get to meet some amazing people and gorgeous cats!
My role mainly focuses on Facebook and Twitter but another volunteer has joined us who will focus more on digital media and online activity so I expect us to have a presence on YouTube very soon! We often run campaigns for different things too and it is great to be able to educate people on things like neutering, microchipping and the benefits of adopting an older cat.
I love social media and it still amazes me how powerful a tool it can be. I still get excited when we hit a milestone of 'likes' for the Facebook page!
I work full time so typically I am active on social media in the mornings, evenings and weekends. I use Facebook and Twitter every day for a mixture of things. My train journey to work is a great time to look through Facebook and see if there is something to post. It is often a cat that is looking for a new home but recently we set up a Lost and Found Facebook page. I find this really difficult. I believe it is so important to ensure a lost cat is posted quickly. The quicker the message is out there, the quicker people know about it and can keep a look out for the lost cat. The power of Facebook is amazing in getting complete strangers helping each other to find their cat. I also think it is really important to keep the page fresh and I try to post something every day. The fosterers are really good at sending updates and photos about the cats in their care so it's lovely to be able to post things regularly.
One of the highlights is being able to publish updates about how the cats are getting on once they have been rehomed. It's lovely to hear how well they settle in and how much their new family loves them.
The main challenge for me is looking after the Lost and Found Facebook page. While there are some fab stories when cats come home, there are equally some incredibly sad outcomes too. I know how upset I would be if one of my cats went missing, so it can be very emotional when interacting with people when their cat is missing.
There have been a lot of standout stories over the last few years but the main ones have come from using the Facebook page to promote some of the cats that find it more difficult to find new homes. Older cats and longhaired cats often take longer to rehome and it is great to use the Facebook page to show them off and educate people about the benefits of adopting an older cat. Cabbage is a recent standout cat. She was longhaired, black-and-white and 10 years old so the odds were stacked against her. Her fosterer had worked hard and Cabbage turned from a stray into a pretty, loving cat and got a fab new home last year!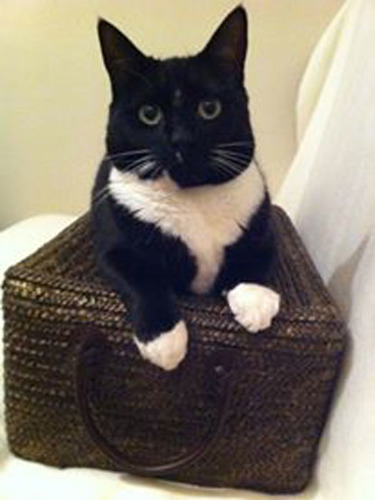 Cat's puss Mollie
My own cats are black-and-white too, Oscar and Mollie. I am always surprised how many people don't want to adopt black and black-and-white cats because my two cats are gorgeous. Of course I am biased though but they have very soft, sleek and shiny coats and are very generous with their headbutts! Oscar follows me around like a little shadow; often I don't even get to use the bathroom in peace! They are seven years old and we adopted them at 10 weeks old. They had been born outside in the winter with their two sisters and their mummy had disappeared but luckily, someone spotted the four of them and they were fostered until they were ready to go to new homes. I wouldn't be without them.
Volunteering for Cats Protection is so worthwhile and you can give as much of your time as you are able to. Our branch really works as a team and we are starting to do lots more as we grow our team and our skills. If anyone is trying to decide whether to volunteer, my advice is to go for it! I get a real warm and fuzzy feeling from it!
At Cats Protection we welcome volunteers with open arms, whether you are young or old, male or female, there's a place for you with us. Use our Find an Opportunity search to look for volunteering roles near you.