Cats Protection's Bridgend Adoption Centre has reunited a cat with her happy owner six years after she went missing thanks to a microchip.
Tabby-and-white puss Chloe went missing in 2010 after she jumped from a pet carrier in Caerphilly when her owner Rebecca Lee was taking her for a routine vet appointment.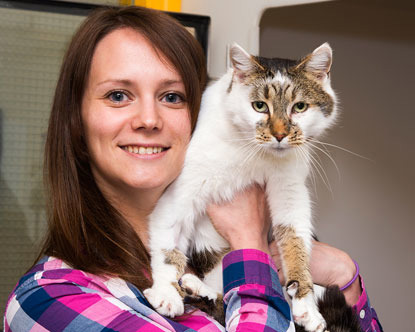 Rebecca and Chloe have been reunited thanks to a microchip. Photo: Bridgend Adoption Centre
After living as a stray and being cared for by an elderly woman just over a mile away, Chloe was eventually handed into the Bridgend Adoption Centre where a quick scan of her microchip meant she could finally be reunited with her owner.
Rebecca Lee, who had believed Chloe had died in a road accident, said she was overjoyed to be able to have her back at her home in Caerphilly.
"Chloe jumped from the pet carrier in the car park and we never saw her again," she said. "I put up posters and placed adverts and shortly after got a call to say a cat matching her description had been found dead by the roadside.
"I was devastated but came to terms with her death. Unbeknown to me at the time, it seems she had wandered as a stray before eventually finding an elderly lady who had taken her in.
"It was a real shock but lovely news to hear that Chloe had been found and was alive and well after so many years.
"I am delighted to be reunited with her and would advise all owners to get their cats microchipped and keep their details up-to-date. I would like to thank the team at Cats Protection for their part in bringing us back together at last."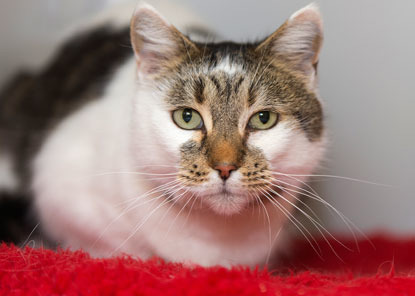 Chloe was missing for six years. Photo: Bridgend Adoption Centre
Bridgend Adoption Centre Deputy Manager Molly Hughes said Chloe had been brought in by the family of the elderly woman who had become too frail to care for her.
"We scanned Chloe, which is routine for all cats coming into our care and our receptionist noticed she was registered to a different owner and address," Molly said. "We managed to get hold of Rebecca, Chloe's original owner, who was shocked to hear from us that Chloe was in our care."
"Chloe was nervous with us but she was very happy to see Rebecca and started rolling over and purring when she saw her.
"It's great to have been able to reunite Chloe with her family, and it was touching to see them together.
"Chloe's story goes to show why microchipping is so important and how effective it is. However, just as important as having your cat microchipped is keeping the details up-to-date. We often have microchipped cats come into our care and are sadly unable to reunite them with their owners because the contact details on the database are incorrect."
June is National Microchipping Month where we're championing the microchipping of pet cats. Is your cat microchipped? Vets, local authorities and trained and insured members of animal welfare organisations may offer microchipping. Find out more in our Microchipping Essential Guide leaflet.