How you can volunteer your time in bite-sized chunks and still make a big difference to the welfare of cats.
At Cats Protection we rely on voluntary support to help thousands of cats and kittens every year through rehoming, neutering and educating the public about cat welfare.
We currently have over 10,000 dedicated volunteers across the country and are always on the lookout for more, but we realise that not everyone has the time to spare.
Microvolunteering is an incredibly easy way you can show your support through small, one-off actions that require minimal commitment.
Even the quickest and easiest gestures can have a big impact, so we've put together a list of some things you can do to help cats if you're pushed for time.
Share our social media posts
Something as easy as following us on Facebook, Twitter, Instagram and YouTube and then sharing our cat appeals and posts about cat care can make a huge difference to cats' lives. One simple click could help find a cat a loving home or encourage a cat owner to get their moggy neutered!
Tell your adoption story
Have you adopted a feline friend from Cats Protection? We would love to hear your story, and by sharing it online, you might just encourage others to adopt another cat in our care! Post your update on Facebook, Twitter and Instagram and don't forget to tag us in!
Get crafty
The cats in our care are always appreciative of a new blanket to snuggle on or a new toy to play with, so if you're feeling crafty then you can make them something to brighten up their stay. You could follow our kitting pattern to make a catnip mouse or find more craft ideas on our YouTube channel.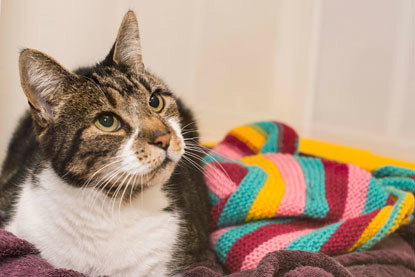 Knit a blanket for a cat in our care

Book a talk
Educating people about cats and their care is one of our key aims, so we offer free talks to schools and community groups to teach people about cats' needs. Book a talk for your school or group today!
Take our online course
Think you know all there is to know about cats? Take our free online course to brush up on all things cat – from their ancestry and behaviours to their health and needs. You might just learn something new! Take the course here and then tell your friends what you've learnt.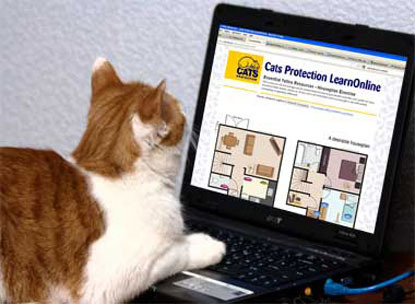 Brush up on your cat knowledge with our online course
Chat to fellow cat owners
If you have friends or family members who own cats, let them know that they can visit the Help & Advice section on our website or our Meow Blog to find lots of information on how to look after their moggy. We may even be able to help them with the cost of neutering and microchipping, both important parts of cat ownership.
Support our campaigns
Our Advocacy & Government Relations team run several campaigns to influence politicians and decision makers to create a better world for cats. Visit our campaign pages website to find out what they're working on and ways you can get involved – it could be as simple as signing a petition!
Host a Pawsome Afternoon Tea
A Pawsome Tea is the perfect excuse to get together with friends and family for some cake and a cuppa while helping cats at the same time. Sign up for your free pack and get baking, brewing and raising funds!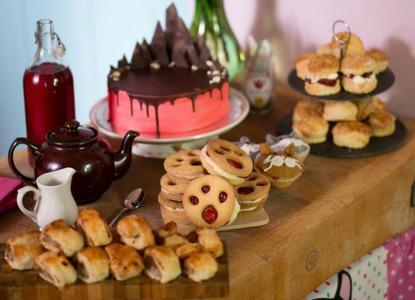 Host a Pawsome Afternoon Tea to raise cash for the kitties
Visit our charity shops
Having a clear out at home? Or just fancy some retail therapy? Pop down to one of our charity shops to donate some items or pick up a bargain, all to raise cash for the kitties! Find your local shop here.
Attend an event
Our branches and centres host hundreds of exciting fundraising events every year, from fairs and quiz nights to homing shows and coffee mornings. Locate your nearest Cats Protection to find details of their upcoming events. They'd love to see you there!
Shop with our partners
We've partnered with a range of different companies to raise funds for cats and kittens, so you could show your support simply by shopping online, taking out some pet insurance or even booking a holiday! Find out how here.