A missing cat survived 3 weeks locked in a garage "eating insects and drinking rainwater".
When Molly Rayment's cat Wispa went missing from her home in St Albans, she quickly feared the worst.
It was very unlike the black-and-white moggy to be gone for more than a few hours, so when Molly woke at 3am on 8 May to find her cat wasn't home, she knew that something was wrong.
After a thorough search of the house and surrounding streets, Molly then went knocking on the neighbours' doors and handing out over 200 posters, asking people to check their sheds and garages in case her cat was shut inside.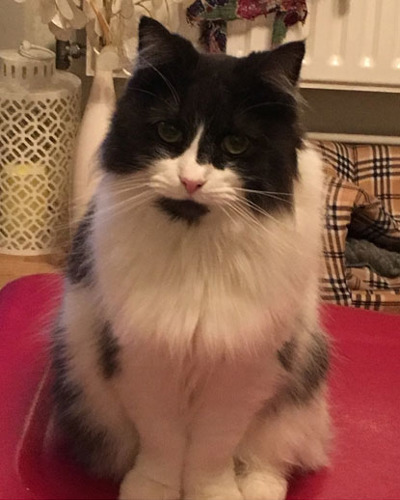 Adorable Wispa before she went missing
"She's called Wispa because she doesn't meow," said Molly, "so I knew that if she was locked in anywhere she would have been very scared but wouldn't be able to let people know she was there."
When none of her neighbours came back with any news, Molly then began putting up posters on lampposts and bus stops, posting about Wispa on social media, and contacting local forums and charities, including Cats Protection's St Albans Branch. Knowing that Wispa was microchipped, she also notified the microchip company and made sure her details were up to date.
"I couldn't have done any more to find her," explained Molly. "I didn't sleep because I didn't want to miss her if she did come home and I also went to places at night where people had said she may have been seen so I could call for her when it was quieter.
"I contacted the local vets and even the local council in case they had found any dead cats. I was getting people sending me photos of dead cats to check if it was her. It was very stressful but it was the not knowing that was the worst."
Then on 27 May, 20 days after she had last seen Wispa, Molly got a call from one of her neighbours. They had found a cat in their garage and thought it was her missing moggy.
"I immediately thought the worst," said Molly. "I didn't think she would have survived 20 days on her own. But then they told me that she was alive and still hiding in the garage."
Molly went round immediately, and as soon as she opened the garage door, she knew it was Wispa inside. "I could see her black and white fur all over the floor. She must have been pulling it out because she was so stressed."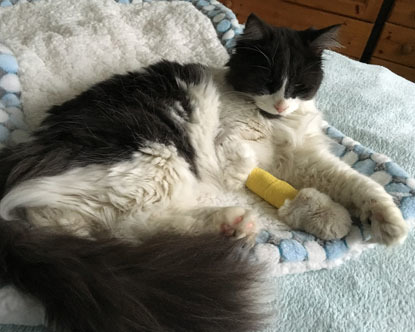 A skinny Wispa recovering after her ordeal
When she eventually saw Wispa, Molly was shocked by the terrible state she was in. "She was desperately dirty and thin. I think she must have been living off of rainwater that leaked in from around the door and maybe some insects or small mice."
A trip to the vets revealed that Wispa weighed just 1.9kg, 2kg less than her normal healthy weight. She was put on a drip for the next three days and then over the following three weeks, Molly had to be careful to only feed her small amounts every few hours.
"She was so hungry she wanted more than the quarter of the small pack I could give her, but if she was fed too much too soon her heart would have given out. The vet said she wouldn't have survived another couple of days."
Thankfully, Wispa is now almost back to her regular weight and is enjoying lots of fuss and cuddles again. Molly said: "I have four cats and I know I shouldn't have favourites but Wispa is my little snuggle buddy."
Molly is now keen to urge the public to be extra vigilant if they know a cat is missing in their area.
"The garage owner felt awful," said Molly. "She said she had looked after I first mentioned Wispa was missing and had opened the shed once a week since to get the lawnmower out. But she would have been too scared of the mower to come out!
"I would urge everyone to make sure they have a thorough check, not just a sweeping glance. Check under boxes, tables etc. Don't assume there won't be a cat in there. Wispa could have been found on day one not day 20. She didn't deserve this."
Sadly, stories like Wispa's are all too common, and not all of them have such a happy ending. Cats Protection received almost 2,000 calls about missing cats to its National Information Line over the last year, with the highest numbers reported in the last two months. And these figures are just the tip of the iceberg as many more cats are reported missing via social media and directly to each of the charity's 250 branches and 36 centres across the UK.
"Cats tend to wander more during warmer weather which explains why we've seen a rise in missing cats over the last couple of months with the UK experiencing such a heatwave," said Cats Protection's Behaviour Manager, Nicky Trevorrow. "They are notoriously curious creatures and like to investigate their surroundings meaning they can often become trapped in outbuildings. In addition, cats won't always meow for attention if they are afraid, making it more difficult to realise they are there, so we'd recommend having a really good check before locking up any outbuildings, particularly if you are aware of any cats missing in your area."
To help prevent other cats like Wispa from suffering, Cats Protection has launched the #LookBeforeYouLock campaign to encourage people to check their sheds, garages and other outbuildings regularly for missing cats.
We've even created a handy door hanger that you can put on your shed or garage door to remind you to look carefully before you lock up. Download it from https://www.cats.org.uk/help-and-advice/home-and-environment/keeping-cats-safe-outside where you'll also find lots of advice for what to do if you've lost or found a cat.