The National Cat Awards are back and we're on the prowl for your nominations.
Do you own a fantastic feline who deserves to be the nation's top cat?
The winner of this year's National Cat Awards will inherit the title from previous winner Jessi-Cat from Greater Manchester. Jessi-Cat helped Lorcan Dillon a young boy with selective mutism, to communicate his emotions more effectively.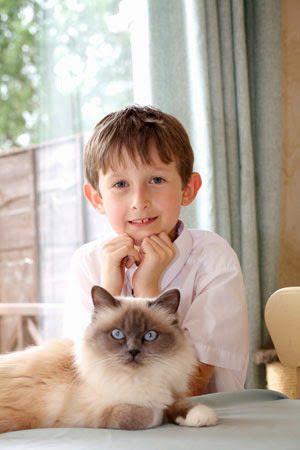 Jessi-Cat and Lorcan © Paul Maven Photography
Celebrating miraculous moggies in 2014
This year's awards are sponsored by PURINA®, the competition is open to all living cats in the UK and celebrates the achievements of the country's fearless felines and miraculous moggies!
Owners have until midday on Friday 30 May to nominate their cat for one of the following categories:
Hero Cat – cats that save the day
Most Caring Cat – cats that have a positive impact on an owner's health or wellbeing
Most Incredible Story – belief-defying, true stories from the cat world
Outstanding Rescue Cat – felines adopted from animal welfare organisations
Purina® Better Together – celebrating the special bond that has transformed and enriched the lives of both a feline and human
The winning felines, and the overall National Cat of the Year, will be announced at a glamorous awards ceremony at London's Savoy Hotel on Thursday 7 August 2014.
The event will be attended by celebrity judges who will present the awards and pay tribute to the nation's top cats.
So don't delay – enter your marvellous moggy's story today! To enter your cat's story:
Call Cats Protection's national Helpline on tel: 03000 12 12 12, or
Email helpline@cats.org.uk to request an entry form.