The Alternative Cat Awards: winner announced!
Cat-loving comedian Bob Mortimer has revealed the winner of Cats Protection's Alternative Cat Awards. 
The awards, sponsored by PURINA®, were launched in August to celebrate the UK's feline lockdown legends, after our annual National Cat Awards had to be postponed due to the COVID-19 pandemic.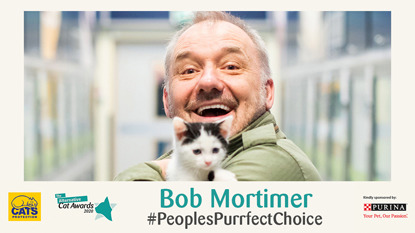 We asked you to send in cute and funny videos of your cat companions and after receiving thousands of entries, we got our panel of celebrity judges to pick the winners of five categories. 
However only one could be crowned the 'People's Purrfect Choice' and so it was up to you to vote for your favourite.
The winner is… Cookie
The peaceful purring of 21-year-old Cookie from Romford won her the #SeniorKitizen award, which celebrates older cats over the age of 11. Definitely turn the volume up to watch this video!
Owner Holly Webb said: "When we rehomed Cookie the vets estimated we would have around six months with her, but three years later she still plays like a kitten. The vets are amazed and wonder what her secret is!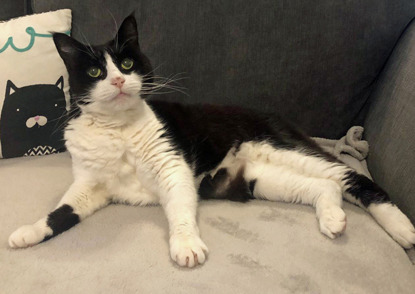 Senior Kitizen winner Cookie.
Credit: Holly Webb.
"She is well and truly enjoying her retirement and now spends the majority of her time either napping on laps, eating or purring. She will sit and wait at the door for us to come home, and meow at us all the time."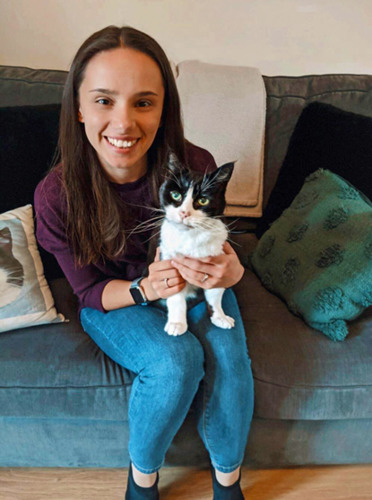 Cookie with her owner Holly Webb.
Credit: Holly Webb.
Radio presenter Justine Greene chose Cookie as the winner of the Senior Kitizen category. Justine said: "Cookie brings a lot to Holly's home and is a great example of how a mature moggy can offer up a lot of love and support! I couldn't resist that purr and the fact she is still going strong at the age of 21!" 
Here are the four fabulous runners up…
Purina Perfect Teamwork winner: Norbert
The excellent computer mouse skills of one-year-old Norbert (also known as Norbz) from Tewkesbury won him the #PurinaPerfectTeamwork award, which celebrates the bond between cats and their owners who were working or studying from home during the lockdown period. 
Norbert's owner Leighanne James said: "We adopted Norbert from Cats Protection when he was just 12 weeks old and watching him grow has been such a joy. He is a really funny character with the longest tail and squeakiest meow ever.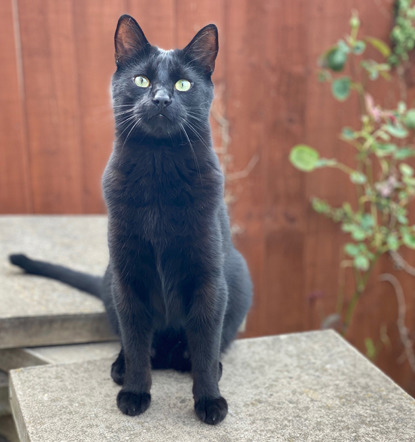 Purina Purrfect Teamwork winner Norbert (aka Norbz).
Credit: Leighanne James.
"Although Norbert can be quite shy at times, he is becoming more confident by the day and quite happy to take part in an online video call, albeit he hasn't learned to type yet!"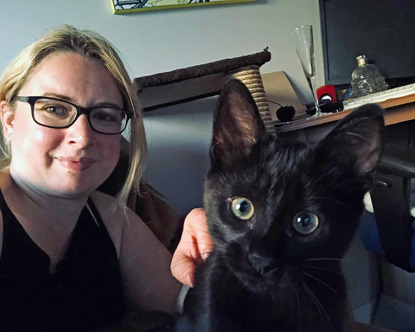 Norbert with his owner Leighanne James.
Credit: Leighanne James.
Norbert's winning video was chosen by celebrity beauty expert and TV presenter Gina Akers. Gina said: "I know what Leighanne means about Norbert's funny character, the way he carefully manoeuvred a computer mouse around with his paw and then swept it off the table really made me laugh.
"Cat capers like this really brighten up a dull working day and so Norbert was my winner from among three excellent finalists."          
Purrfectly Imperfect winner: Charlie Roo
Despite having under-developed front legs, Charlie Roo's fun-loving approach to life won him the #PurrfectlyImperfect category which celebrates cats living happy, healthy lives with a disability, health issue or superficial aesthetic deformity.
Charlie Roo, who is two years old and from Dumfries, has a condition called radial hypoplasia, which means the bones in his front legs did not grow properly. However, as you can see from his video, it doesn't stop him from playing, sleeping and generally just being a cat.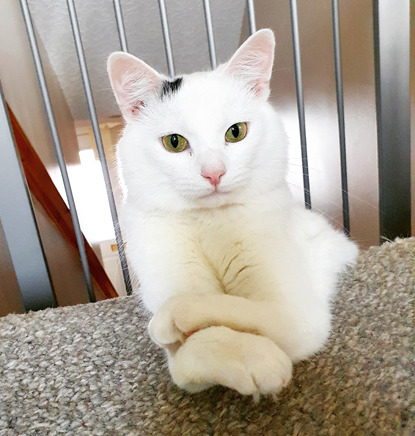 Purrfectly Imperfect winner Charlie Roo.
Credit: Siobhan Webster.
Owner Siobhan Webster said: "Charlie Roo doesn't let his disability or his bad start in life faze him. When he was rescued, he was very underweight, anaemic and had fleas and worms. Apart from being extremely cute, he just loves to play and makes us laugh every single day."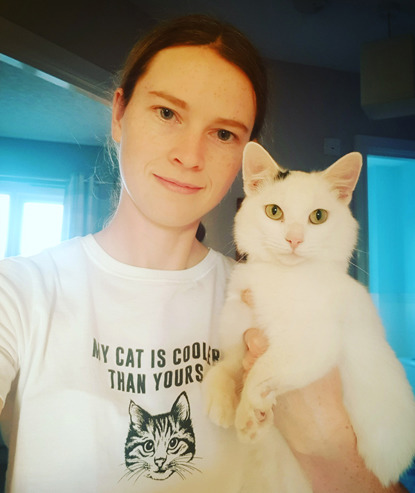 Charlie Roo with his owner Siobhan Webster.
Credit: Siobhan Webster.
Charlie Roo was chosen by comedian and writer Jake Lambert who has a Purrfectly Imperfect cat of his own, one-eyed black moggy Richard Parker. 
Mischievous Moggy winner: Sid
Athletic seven-year-old Sid from Baldock won the #MischeviousMoggy category thanks to his jaw-dropping banister leaping act. 
The category celebrated cats with interesting and playful behaviours that have performed challenges or been a source of entertainment during lockdown.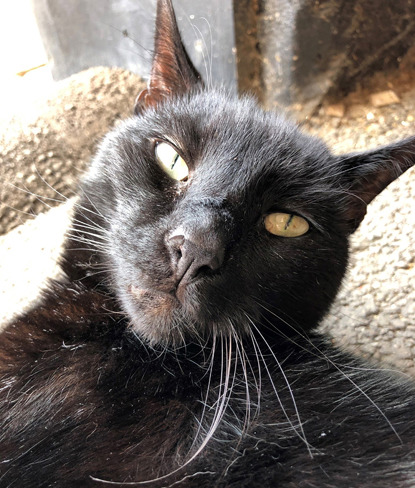 Mischievous Moggy winner Sid.
Credit: Philippa Beck.
Owner Philippa Beck-Evans said: "Sid is the epitome of a mischievous moggy. From dipping his paw in his dad's birthday cake, or opening a bag of pasta shells and batting them all over the floor, as well as jumping all the way up the bannisters during lockdown, he has kept us all entertained. He really is such a loveable character."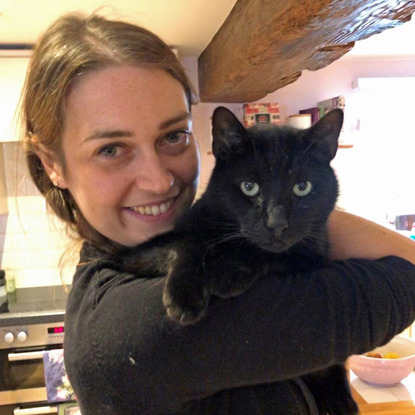 Sid with his owner Philippa Beck.
Credit: Philippa Beck.
Sid's winning video was chosen by ex-England goalkeeper David Seaman and his wife, Dancing on Ice star Frankie Seaman. Frankie said: "David and I were incredibly impressed by Sid's agility! Cats like Sid invariably surprise us with their quirky and unique ways of doing things and that's one of the reasons why we love them so much!"    
Best Newcomer winner: Bean
Playful kitten Bean from Leeds has won the #BestNewcomer category after settling into her new home this year despite a tough start in life.
The category celebrates cats adopted from animal rescue organisations in 2020, and Bean's scratch post climbing antics show she's very happy to have found her new forever home.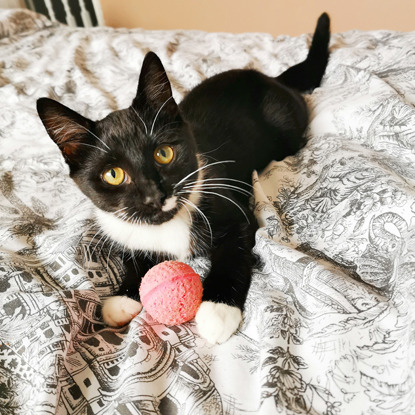 Best Newcomer winner Bean.
Credit: Amy Hatton.
Bean's owner Amy Hatton said: "Bean didn't have the best of starts in life, living on the streets with her feral mum. At first, she would try getting under the kitchen cupboards or sofa to sleep as she was too scared to let her guard down around us. But now she is a totally different kitten and loves sleeping on my lap for hours. She's a massively loving cat and loves cuddles all the time."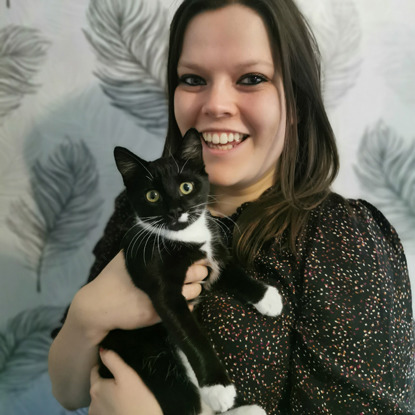 Bean with her owner Amy Hatton.
Credit: Amy Hatton.
Bean's winning video was chosen by category judge, dance choreographer and ex-Strictly judge Arlene Phillips.
Along with the People's Purrfect Choice title, Cookie's owner will be invited to attend Cats Protection's National Cat Awards at London's Savoy on 5 August 2021 and win a bundle of cat goodies. Congratulations Cookie!
The Alternative Cat Awards replaced the National Cat Awards this year due to government guidelines.