We're looking for a black cat to be the Champion of this year's National Black Cat Day.
October means one thing: National Black Cat Day! Thursday 30 October 2014 sees the return of our annual celebration of black and black-and-white cats.
This year we're looking for a National Black Cat Day Champion – a wonderful black or black-and-white rescue cat who can show the world how magnificent monochrome moggies are.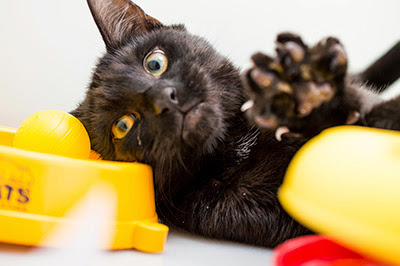 Photo: CP Library
We're running a competition on our Facebook page which asks people to share photos of their darker cats and their stories. The best of the bunch will be put to a public vote - we'll ask our Facebook supporters to 'like' their favourite. The winner will be crowned our 'National Black Cat Day Champion' and will receive a feline photo shoot and will become our 'poster cat' for future rehoming and black cat appeals.
There will be lots of other activity around the day too so keep an eye on our website, blog and social media profiles. Follow the #CPBlackCats and #BlackCatSelfie hashtags and don't forget to share your favourite pictures and stories with friends and family!