Brighton & District Branch's photo competition winner: Biff!
Gorgeous ginger moggy Biff has won the inaugural photo competition of Cats Protection's Brighton & District Branch, proving that #PurrfectlyImperfect cats are beautiful.
The photo of seven-year-old Biff was taken by his owner Eve Plumridge, who adopted him after he had a rocky start in life.
The winning photo of gorgeous Biff
Found injured by a member of the public in Birmingham, it is believed that Biff had been hit by a car, and was taken to a nearby RSPCA shelter to receive extensive surgery.
After having an eye removed and a metal plate inserted into his jaw, Biff was also found to have Feline Immunodeficiency Virus (FIV), the cat version of Human Immunodeficiency Virus (HIV), meaning he would need to be an indoor cat. It took him five months to fully recover from his ordeal and be ready to find a new home.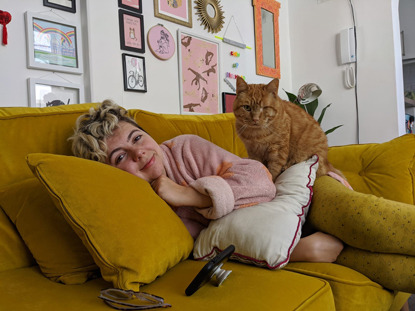 Eve with her trusty companion Biff
Eve had already set her sights on adopting an FIV cat, and describes finding the lovely Biff as fate.
"When I moved out of the family home into my own place in May 2019, I knew that I'd want a furry companion to join me," said Eve. "Due to the fact that there isn't access to any outside space, it just seemed like the perfect opportunity to bring a purrfectly imperfect babe into the home.
"I'd been ready to get a cat pretty much from day one, but I knew that I had an operation coming up, a double jaw join replacement, that was going to mean a good six or more weeks off work and saw that as the perfect time to be able to settle a cat into my home. During the first half of my recovery after I got back home from the operation at the Queen Elizabeth Hospital in Birmingham, I started looking online.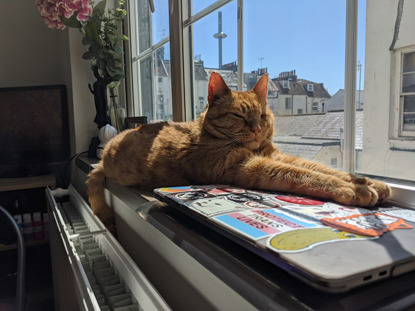 Biff in one of his favourite spots, a sunny windowsill
"Mr Wiggles featured on the RSPCA website. They had two pictures of this timid little seven-year-old FIV+ ginger boy and a story that both broke and stole my heart. He was found by a member of the public after seemly being hit by a car. They think he'd been wondering in that state for a while as his ruptured eye was infested with flies, he had maggots on the roof of his mouth and a broken jaw, which they had to fix with a bit of metal. As soon as I read that line, I knew I had found my soulmate. Then I looked at where he was recovering... a 15-minute drive away from the check-up on my own metal jaw the next week. I booked in to meet him and the rest is history!"
Renamed Mr Biff Wiggles and now living in Brighton with Eve and her boyfriend, it didn't take long for this purrfectly imperfect moggy to settle in, and his missing eye does nothing to hold him back at home.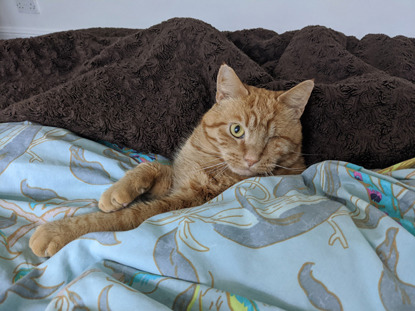 All tucked up ready for bed
"Apart from making him a little more clumsy – he's at war with one particular door corner – it really does nothing to hinder him getting around my flat. I have a spiral staircase and he still manages to charge up and down it as confident as anything during his post-poop zoomies!
"Biff became famous while recovering at the RSPCA hospital for his 'dinner dance'. He loves hopping from one foot to the other and swirling around your legs while he waits for you to serve his meal. He has rather large, webbed feet which make it even more adorable."
Eve was also well-prepared to look after an FIV cat, having done her research before adopting Biff.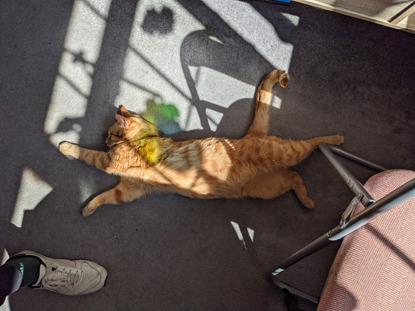 Biff enjoying a big stretch
"I follow a load of cat accounts on Instagram which include trap, neuter and return (TNR) and fosterer accounts. The people that run these accounts show the true reality of their day-to-day work, the impact of kitten season and the spread of diseases such as FIV. It was quite overwhelming to follow them to begin with compared to the usual popular 'famous cat' accounts, but I learnt so much from it, including the importance of neutering and the impact of FIV on a cat's life, which isn't as scary as it seems!
"I knew that Biff's FIV status meant that he was more susceptible to disease and infection, meaning he should be kept indoors to reduce the chance of him contracting anything and also stopping him from spreading FIV to other cats. I just have to make sure I'm on top of things such as making sure he has ample water available to keep his liver healthy and to be strict on not treating him to any food other than his own (plus a Dreamie or five!).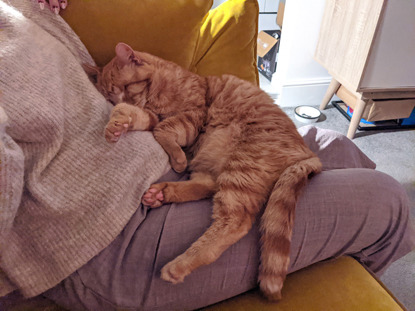 Snuggled up on a cosy lap
"I also get a lot of support from Biff's Instagram friends, who are mostly other FIV cats and their humans. We do a lot of sharing.
"It's important for people to learn about conditions like FIV and for people to understand that these cats can be just as, if not more, loving. From my own experience, one of the main worries people have with regards to adopting FIV cats is the impact on the cat's life expectancy. While doing my research, I discovered one major fact: FIV cats can live a similar life expectancy to non-infected cats! Knowing this, if you found yourself in a position to adopt an FIV cat then why wouldn't you?!"
Since lockdown began, Eve has been on furlough from her job and has enjoyed documenting Biff's antics around the house.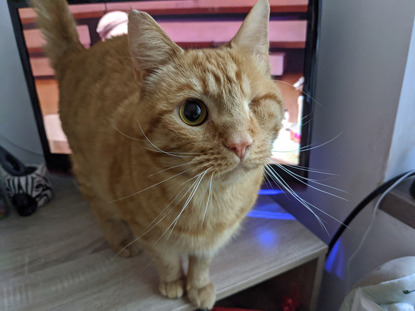 Biff posing for the camera
"Biff is a creature of habit and has loved having myself and my boyfriend around him 24/7. He knows when to wake us up for breakfast in the morning and is stood in the kitchen staring at us when it comes to his 6pm dinner time.
"I honestly think it's also made him a more comfortable and confident boy. There's a lot less that scares him round the house, although we are yet to be able to count the hoover in that category!"
To see the other winners in our Brighton & District Branch's photo competition, take a look at their Facebook, Twitter and Instagram pages.
If you have a disabled cat, you can share their story with us using #PurrfectlyImperfect on social media. For more information on caring for disabled cats, visit www.cats.org.uk/disabled-cats