Inspiration and cakes from some of our brilliant Pawsome Afternoon Tea hosts.
2017 saw cat-lovers coming together to share a cup of tea and a piece of cake as part of Pawsome Afternoon Tea, Cats Protection's new mass participation event. With over 2,000 supporters signing up to host an event and raising an incredible £40,000 so far, it is fabulous to see what a difference a bit of baking can make.
Here are some Pawsome tales from some of our top fundraisers:
Maddie Moriarty, volunteer with North Ayrshire branch, raised £799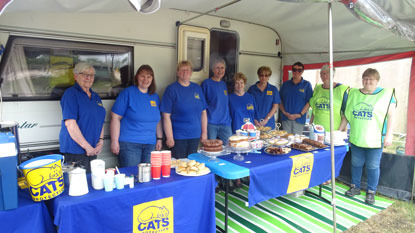 "Our Pawsome Tea was a real team effort and thankfully the weather was kind to us. We had a bouncy castle, pony rides, archery, a plant stall and lots of cakes."
Lorna Williamson raised £549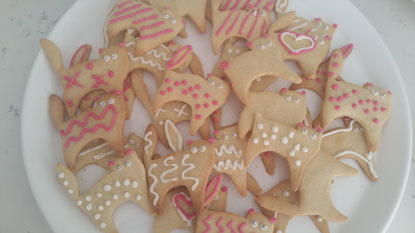 "I feel so passionately about Cats Protection. Having my boys (two cats from the National Cat Adoption Centre in Chelwood Gate, Sussex) has made me so happy and bought me hours of unconditional love. When I saw the chance of doing some fundraising in return, I leapt at it. Cats and cake – what could be better?
"I was up early on the morning of 26 May as there was so much to do! I had done as much as possible beforehand, including preparing the sausage rolls using the recipe in the fundraising pack. Once they were in to bake, I set out my homemade sea-salt and fudge chocolate brownies and prepared the sandwiches.
"My husband and I had been busy making cat-shaped biscuits and cupcakes too. I wanted to theme my cupcakes on my two rescue cats – Teddy is a gorgeous ginger tom and Lance is a sleek white minx – so my cat cakes had orange and white icing. I served up my goodies with tea and pink champagne and left my donations jar among the cake."
Ann Willliams raised £470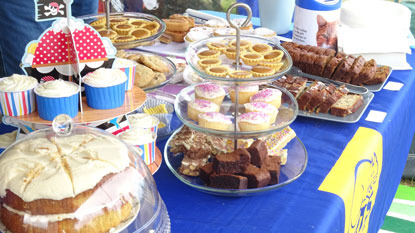 "The Pawsome Tea email from Cats Protection appeared in my inbox one morning and, given my affection for cats, I decided to hold an event in my area.
"I rallied support from all the social groups I belong to, spreading the word to the neighbourhood and posting leaflets through letterboxes, as well as posting signs for passers-by around my house and garden.
"Then came the task of making all the various cakes, scones and fancies. The centrepiece of the cake display was my Cat Party Cake, which was first prize in the raffle held during the afternoon of the event. The weather was excellent, allowing for the party to be held in the garden. There was an excellent turnout, with the donations totalling £470 at the end of the day."
If you'd like to take part in next year's Pawsome Afternoon Tea and help raise money for cats in need, visit www.pawsometea.org to sign up.