"Absolute sweetheart" FIV-positive cat Edmund settles in his new home
This post has been written by Chiltern Branch
We'd like to share the story of Edmund, our beautiful FIV+ cat who is now living the life of Riley with his loving family.
Edmund's story is one that will be so familiar to every branch of Cats Protection. He was found as a stray – not microchipped, not neutered and with horrible wounds from fighting. We weren't surprised when his FIV test came back as positive.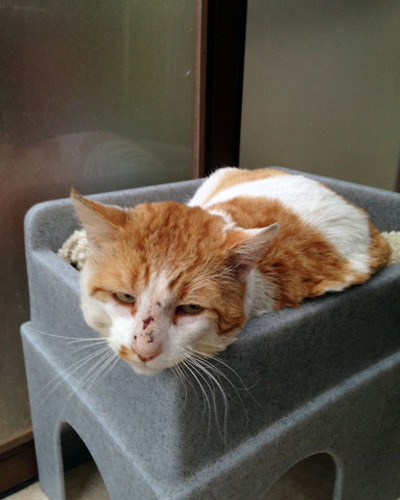 Edmund's war wounds
Edmund was an absolute sweetheart, very affectionate and gentle, and with loving care and attention from his foster mum Emma, his wounds soon healed and his coat took on a glossy sheen. We got him neutered, microchipped, vaccinated and had his general health checked over by our local vet. Fortunately, he was in good health.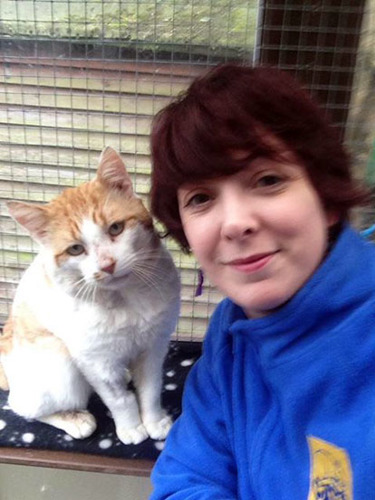 Edmund and his fosterer, Emma
As all CP branches will also know, ginger and white cats are highly sought after, and we very quickly had an enquiry from a lovely couple in Aylesbury, Ellie and Robbie, who live in a flat and so needed to adopt an indoor-only cat. This was perfect for Edmund, as keeping him indoors will protect him from catching infections that his FIV makes him more vulnerable to, and will stop him passing the virus on to any other cats.
We carried out a homing visit and knew that his potential adopters and their flat would be perfect for Edmund. He had so many windows to look out of and lots of sofas, chairs and throws to lounge about on. Ellie also worked nearby, so would be able to pop home in her lunch hour to check on him.
Edmund settled in straight away and we had this update from his new owner Ellie on the day after he arrived at his new home in March:
"Edmund is such a confident and loving cat. It took him a matter of minutes to settle in! He's already claimed his spot on the sofa and given us so many cuddles. He adores Robbie and doesn't leave him alone, as you can see in the pictures. Ed will go to great lengths to make sure he is the centre of attention, no matter what you're trying to do!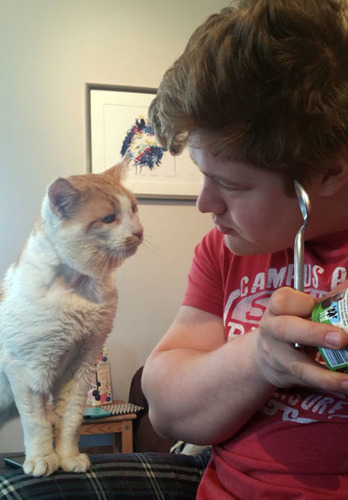 Edmund with his new owner, Robbie
"Ed's currently curled up on my lap purring very loudly and looks quite disgruntled that I'm writing this email rather than paying him attention..."
And last month, we had this update:
"Well, we thought he was confident on day one but he now definitely rules the roost! He makes us laugh every day and we're always greeted with enthusiastic meows and cuddles. He loves it when we have people round because he has an abundance of laps to sit on and humans to pay him attention! We strongly believe that he's made of liquid because he just melts into your lap and snores very loudly.
"He knows what time our alarm goes off in the morning and pre-emptively comes to wake us up with a cuddle!
"He loves his scratching mat and uses it to sleep on and hide his toys in too. It also took him some time to learn how to play but he now has a selection of his favourite toys which keep him entertained while we're out. Thank you to the little girl who donated the catnip mice! However he now thinks shoelaces are something to kill so putting on boots is always a challenge...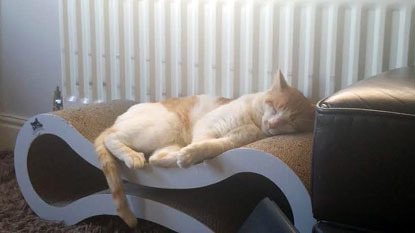 Edmund asleep on his scratch pad
"The vet says he is an ideal weight now and his fur looks beautifully shiny and white.
"He is very happy staying indoors and doesn't even look out of the windows. The only time he goes near the front door is when visitors leave and he calls for a few minutes at the door after them!
"Edmund is so popular with all of our friends and family. We travelled to Wales at the weekend to visit Robbie's grandma and everyone fought to look after the cat while we were away! My mum comes round for a cuddle very often as her cat is totally indifferent but Edmund rather adores her. And of course we love him. We feel so lucky to have such a friendly, characterful and intelligent cat in our lives."
Veterinary note: FIV is a virus in cats that is similar to the human virus, HIV or Human Immunodeficiency Virus. However, FIV does not infect humans, and HIV does not infect cats. FIV is thought to infect around four per cent of cats in the UK. For more information read our leaflet: Feline Immunodeficiency Virus (FIV) and Feline Leukaemia Virus (FeLV).