Cats Protection volunteers and employees nominated for Animal Charity Awards.
On 22 April Petplan and the Association of Dogs and Cats Homes (ADCH) joined forces for the third year to host their Animal Charity Awards.
The event celebrates outstanding animal charities and not-for-profit organisations across the UK who go that extra mile to help rescue and rehome animals in need. Cats Protection received an impressive 163 nominations across the three categories – Animal Charity Employee of the Year, Animal Charity Team of the Year and Animal Charity Volunteer of the Year; and Warrington Adoption Centre's Cat Care Assistant Claire Frangleton was even selected as a finalist (you can watch videos about all the finalists here).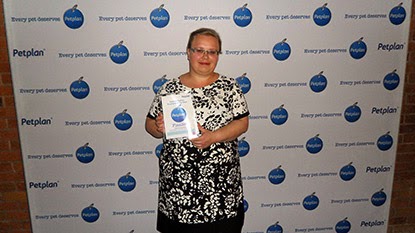 Animal Charity Employee of the Year finalist Claire Frangleton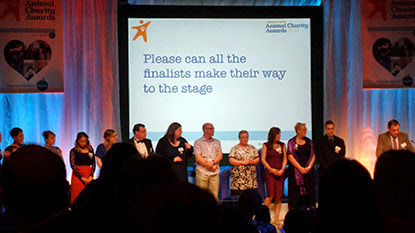 All finalists head to the stage
Liz Robinson, Co-ordinator at our Deeside Branch found the event hugely useful:
"I volunteer for Cats Protection and I'm the Co-ordinator of the Deeside Branch undertaking Trap-Neuter-Returns (TNR) and promoting welfare in the north east of Scotland. We cover a huge rural area.
"Earlier this year our Regional Development Manager, Donna Webster, and I were very humbled to be chosen to attend this year's Petplan & ADCH Animal Charity Awards in Bournemouth. I have never been to something like it before so I wasn't really sure what to expect. Would it be beneficial to me and the branch? How would Cats Protection play a part? Answers to those questions and more were instantly answered as soon as we walked through the door.
"The conference was welcoming and very informative from start to finish. It really showed how all animal charities work together, caring and protecting our beloved animals who can't talk for themselves. It was also very useful for networking with other charity volunteers and staff.
"If anyone is given the chance to attend future Petplan & ADCH Animal Charity Awards – or any other animal charity events that come up – I would highly recommend you go. It's well worth it; I can't rate it highly enough."