Careers with cats: How can I become a Cat Care Assistant?
Dreaming of a career with cats? You might be surprised to find out how many job roles there are out there for those with a fondness of felines.
In celebration of GCSE results day, we're launching the first in our series that focuses on cat-based careers. This week we meet Avril Fuller, Senior Cat Care Assistant at the National Cat Centre.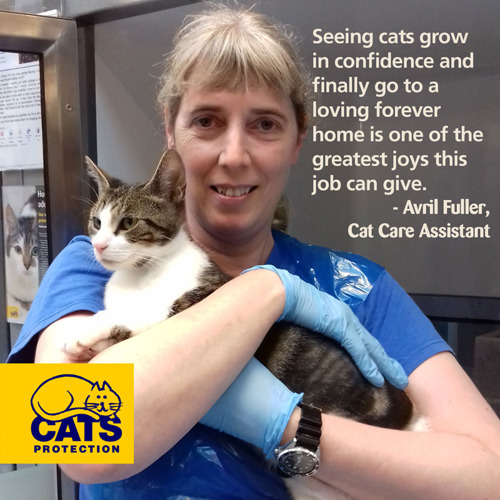 What inspired you to become a Cat Care Assistant?
There were several reasons I wanted to become a Cat Care Assistant (CCA). Firstly, I was looking for a change of career and I was attracted to the idea of working for a charity. I already had a huge love of cats so where better to work than with Cats Protection?
How did you become a Cat Care Assistant?
At the time I had no animal-based qualifications and no experience working in an animal welfare environment. To build up my knowledge and improve my chances of getting a job I volunteered at my closest Cats Protection adoption centre for a year and a half. It was during this time that I gained a lot of experience, taking every learning opportunity I could find. Soon enough an opportunity came up and I was accepted as a full-time CCA.
What is the best thing about your job with cats?
I get to talk about my favourite subject all day, cats! Not only that but I get to be involved in the care and rehabilitation of many cats from all kinds of backgrounds every day. Seeing them grow in confidence and finally go to a loving forever home is one of the greatest joys this job can give.
Read the other posts in our series here: Sarah talks about becoming a Veterinary Surgeon, and Dom chats about his career as a cat behaviourist.
For more information on working for Cats Protection, go to our careers site.