Thanks to Purina we can continue caring for the hundreds of unwanted cats waiting for homes in our National Cat Adoption Centre.
Did you know that in a given month our National Cat Adoption Centre (NCAC) based in Sussex on average provides around 2,500 meals for cats in their care, rehome around 100 cats and perform around 70 medical procedures? That's a lot of work and a lot of food!
Well, we want to thank Purina® who are kindly donating £100k to us to fund the costs of running our National Cat Adoption Centre for the month of November. These funds will help all elements of the centre's work in November such as looking after the hundreds of cats in their care and all the vital veterinary work that goes on at the centre.
Our NCAC is located in Ashdown Forest, Sussex and is our flagship centre, combining all the elements of our work. Our NCAC also has its own veterinary clinic on site and the funds from Purina will also help this key area of the centre's work too.
A typical day in the centre
Before the centre opens to the public at 10am there will most likely be between 200 and 300 cats to feed, so it's all hands on deck! Throughout the day, the team of volunteers and Cat Care Assistants will undertake a variety of other tasks such as cleaning the pens, laundry, completing health checks for new arrivals, responding to online queries and telephone calls, liaising with potential adopters and getting cats ready to be homed to name but a few.
Our centre has 202 cat pens in a variety of wings. There are two homing wings; which are open to the public to view cats looking for homes. We have an admissions wing for cats that have recently come into our care and an isolation wing should any cats need to be monitored. Finally, we also have a family and maternity wing – during kitten season this can be a very busy section for the team! 
In addition, our centre is unique as it also has a vet clinic on site specifically for use by the centre. They will undertake a vet run every Monday and Friday to check whether any cats in our admissions section require any treatment. The vet surgeon and their team will then perform these procedures on Tuesdays, Wednesdays and Thursdays.
How the funds from Purina will help cats in our care like Doobie and Tilly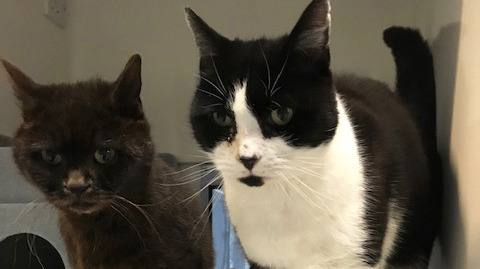 Doobie and Tilly recently came into our admissions wing because sadly their owner passed away. Doobie is a friendly five-year-old, black-and-white cat. Doobie is due to undergo some dental work next week, so should hopefully be ready for homing w/c 12 November.
Tilly, nine years old, is a very friendly brown cat and tries to give cuddles! Tilly is having a vet check on Friday to see if she is ready for homing. We will look to home Doobie and Tilly together once they're both ready to move to the homing wing. We will keep you updated on their progress, so please look back here from 12 November for an update!
A massive thank you to Purina from us and all the cats in our care for their continued support. The funds from Purina will help provide the food, warmth and shelter that cats like Doobie and Tilly need while they look for their forever home.