Meet just some of our incredible volunteers doing amazing things for cats and their welfare.
The amazing work Cats Protection does to help cats in need would not be possible without our team of incredible volunteers.
Over 11,000 cat lovers across the UK donate their time, skills and passion to improving the lives of unfortunate felines and we think every one of them is a superhero.
At this year's National Cat Awards we took the opportunity to celebrate just a few of our amazing volunteer teams who have brought about a particularly positive result for cat welfare.
Here are the inspiring stories of our Star Team Award finalists. You can find out who won below! 
Bolton & Radcliffe Branch help cat owners at food banks 
Helping people in need care for their cats has always been a priority for Cats Protection's Bolton & Radcliffe Branch and in November 2017 volunteers decided to look for ways to engage more with their local community.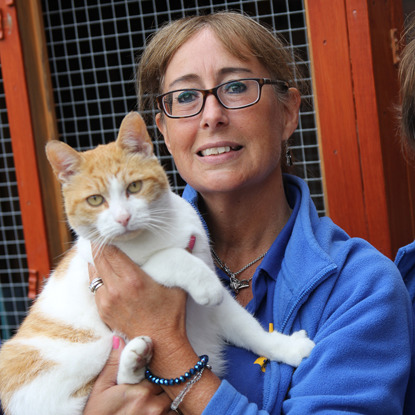 The result was a collaboration with two local food banks, allowing the branch to give cat food and neutering assistance to owners in financial difficulty.
The volunteers attended food banks regularly, chatting to people as they queued and offering to meet the full cost of neutering as well as providing transport to vets.
The partnership has helped countless owners and their cats with the short-term need for cat food and will also have a long-term impact in reducing the number of breeding cats locally.
Val Fryer, Branch Secretary, said: "It is obviously a very stressful time for people who have run into financial difficulty and we understand that many owners worry about how this will affect their pets." 
As well as joining forces with food banks, the branch has been active in supporting local teenagers taking part in the National Citizen Service, a government-backed project designed to build skills for work and life.
Frome & District Branch team up with local college to care for cats
A collaboration between Cats Protection's Frome & District Branch and its local college is helping even more cats in need, as well as giving animal care students a greater understanding of feline welfare.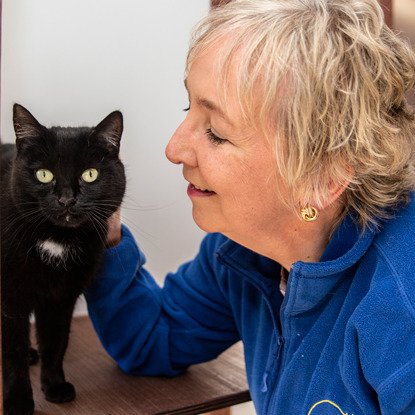 Volunteers at the branch worked with Bath College to install a mini four-pen cattery at its Animal Care department.
Following months of planning and training, the unit opened early in 2019, with students providing day-to-day care under the close supervision of teachers and guidance from Cats Protection.
Homing & Welfare Officer, Mandy Wescott said: "We provide ongoing training and guidance, as well as organising admissions, vet checks and rehoming. It's a win-win situation for everyone – we're able to help more cats and the cats themselves enjoy plenty of care and attention from a large number of capable students.
"The students themselves benefit not only from the experience of providing hands-on care, but also from working with Cats Protection on feline welfare."
Glasgow Branch rehome 70 cats from one flat
It seemed like another normal day for Kathy Dunsmore, Coordinator for Cats Protection's Glasgow Branch, but when they received a call asking for help to take in 25 cats from a two-bedroom flat, she braced herself for a busy few days.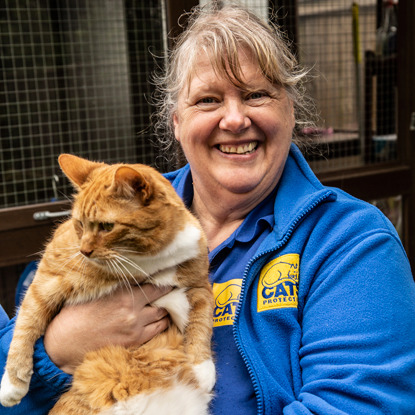 Together with fellow volunteers Myra Murphy and Lorraine Currie, Kathy went to the property in South Glasgow. Within a few minutes of arriving, it was clear there were many more cats – in fact, the team was to remove a total of 70 cats over the course of five days.
With the cats living in very cramped conditions with no access to outdoors, conditions were particularly difficult for the volunteers to work in. All the cats needed vet checks and most needed neutering and litter training. The team worked closely with contacts at local vets to minimise stress to the cats while they were transported for treatment.
The next challenge was finding space for such a huge influx of cats so the team put out an urgent appeal to neighbouring volunteer-run branches and centres.
Kathy said: "The resident had done the right thing in calling for help but there's no doubt it was a very challenging situation. We worked round the clock to make sure all of the cats got the care they needed and found a place for all of them. The teamwork was quite simply outstanding and I'm so proud of everyone who helped out."
And the winner is… we think they're all winners but you can find out who won the public vote here!
If you're thinking of joining our team of cat heroes, you can find out more about volunteering for Cats Protection at https://www.cats.org.uk/support-us/get-involved-volunteering