We urgently need volunteers to provide temporary homes for cats and kittens in London – can you help?
A guest post from volunteer Louise Wright
As you're reading this, hundreds of cat fosterers around the country have a little furry lodger enjoying the care and comfort of their home.
Without these volunteers Cats Protection just wouldn't be able to help the number of cats and kittens that they currently do. If you've ever thought about it, but don't really know what's involved, this time of year is an ideal time to try it out.
Around Christmas, we always have cats that need to go into a home environment and as most people have some time off, it's a good opportunity to see what it's like. Not that you have to be home all day to foster cats. It's extremely flexible and we have people with a variety of lifestyles helping us out. As foster cats aren't allowed to go outside, you can live in an upstairs flat or a four-bedroom house and anything in between. If you've always wanted a cat, but haven't got one because you've got nowhere to let them out, then fostering could be the perfect way to get your cat fix.
Dana and Craig have been fostering for 10 years now and regularly take in litters of kittens.
"We have enjoyed all the foster cats we have had over the years, but kittens are a special pleasure. Watching them develop from birth, pick up sounds and then to see 'in focus' – and to watch their wobbly first steps turn into dashing about and pouncing on their toys (and each other) provides hours of fun. Of course, there's also the business of teaching them about the world – all part of the reward of feeling you have given them a good start in life."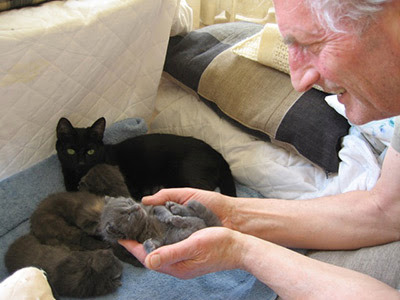 Volunteer Craig with foster kittens
All our cat fosterers make a huge difference to the work we do and at the moment we urgently need cat fosterers in the north and south London area. With a new Mitcham Homing Centre due to open in the spring, Volunteer Team Leader Stephanie Osborne said: "This new centre will help us cope with the huge demand in the London area. We've taken in 620 cats in north London alone this year, up 30 per cent from 2013. That would've been impossible without the invaluable help of our volunteer fosterers."
If you live in the London area and would like to find out more about fostering cats please email Steph at volunteering.london@cats.org.uk or call 020 7272 6048.