After her partner passed away, Claudia's cat Kiko is her reason to get up every day and has helped with her mental wellbeing
When Claudia's partner James passed away unexpectedly at the at the age of 33, her cat Kiko was the one who kept her going through her loneliness and grief.
"When James passed, Kiko was and is my reason to get up every day," said Claudia. "I know I need to take care of him and that keeps me going. Especially in the beginning, what kept me here was the thought of my parents and family back in Portugal and Kiko."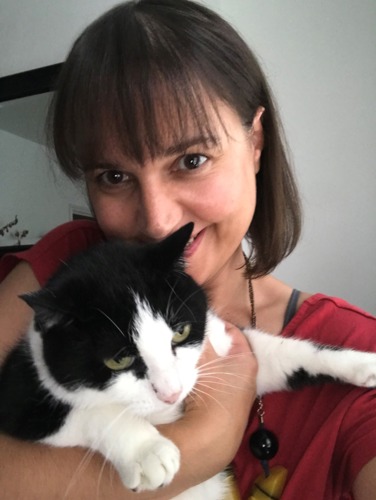 Claudia and Kiko
Claudia isn't the only one to find invaluable companionship in a feline friend, as Cats Protection's new CATS (Cats and Their Stats) 2022 report shows that companionship, reducing loneliness and reducing stress are collectively the top three reasons for owning a cat in the UK.
The report has been produced from the results of a survey of over 10,000 cat owners, and highlights the main benefits of cat ownership to humans.
21% of cat owners say that the main reason they have a cat in their life is to help them feel less stressed, and 67% of cat owners say their cat gives them something to get up for in the morning, an increase from 62% in 2021.
Claudia got Kiko in January 2019 as a present for her partner James, as he was a big cat-lover. "James loved cats so much and he made me love cats as much as him," said Claudia. "I always had dogs, and I always told him that if we were to have a pet it was to be a dog! But James wanted a cat so much, and when you love someone you just want them to be happy!
"When I saw the look on James' face when I brought Kiko home, my heart melted. And then Kiko stole my heart straightaway as well."
When James sadly passed away in 2020, Kiko became a huge support for Claudia in her grief. "People say they don't like cats because they are independent and don't really care about us, but that is so not true," explained Claudia.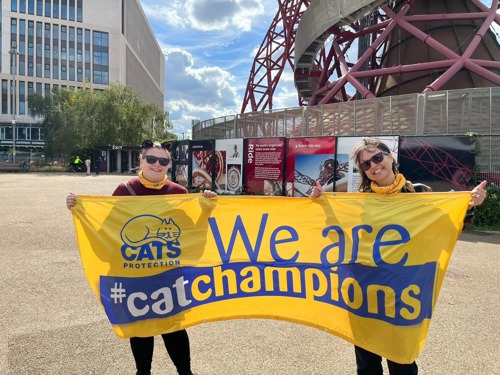 Claudia (right) and her friend Kelsey ready for a fundraising challenge 
"Kiko knows when I am sad. Sometimes I am crying in bed, in my room upstairs, and he is downstairs watching the people passing by the window, and he just comes upstairs and cuddles with me until I calm down and stop crying. Then when he is sure I am ok he goes back to his life, watching people or birds by the window. He is great company too. I never feel alone with him."
According to Marmalade Trust, the UK's leading loneliness charity: "Research by the National Centre for Social Research (NatCen) has found that mental wellbeing and loneliness are closely associated.
"Understanding Society, a study of life in the UK, estimated that 28% of people with mental distress experienced chronic loneliness, and 60% of people experiencing chronic loneliness experienced mental distress. Loneliness was a predictor of the onset of mental distress and, to a lesser extent, the continuation of mental distress."
Claudia believes that cats are hugely beneficial for mental wellbeing, and she's not alone. "I know other widows – from a charity called WAY Widowed & Young, supporting people like me who lost their partners at a young age – that have cats as well and they all say that they help their mental health," said Claudia. "We even have a sub-group named WAY Cats, for members with cats or that like cats to share photos of their cats and stories.
"I think cats, with their quirkiness, make us forget a little of the pain we are in. When Kiko is doing something funny I don't think of the pain grief brought to my life, I smile and laugh. Kiko is also a connection to James, he is my family, he is what is left of my happy family of three; James, Kiko and I, so he is really important."
As well as loving cats, James also loved heights and was a professional abseiler who worked on the installation of the slide at the ArcelorMittal Orbit tower in London's Queen Elizabeth Olympic Park in 2016. As a tribute to James, Claudia decided to combine James' two great loves and take on a daring challenge to raise money for Cats Protection.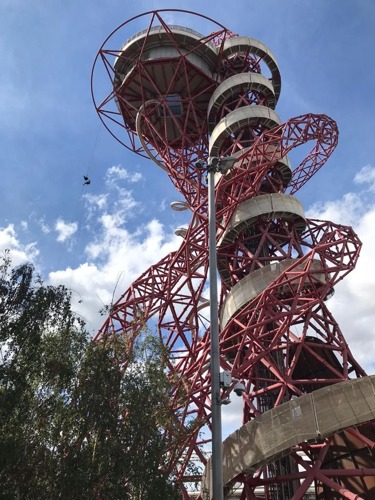 Claudia and her friend Kelsey abseiling off the tower
"One day I was scrolling through my Instagram and I saw an advert from Cats Protection for the charity abseil of ArcelorMittal Orbit. I was in Scotland for work, in a hotel room missing James so much. It was near the anniversary of his passing and I didn't even have Kiko with me to support me. When I saw that advert it was like James was talking to me.
"I always wanted James to teach me to climb but sadly we never got the chance. I'm now trying to live for both of us so I'm doing this in his memory. For his love of cats and of heights!"
Claudia completed the abseil on 25 September and raised an incredible £500 to help cats and kittens waiting for new homes across the UK.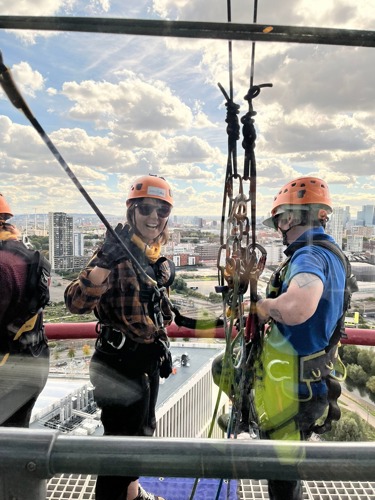 Claudia preparing for her abseiling challenge 
"This experience made me feel closer to James, and I think, wherever he is now, he is proud of me! I got lots of support from other climbing friends of James, which was really nice. I am so thankful to everyone that has supported my fundraising, even people I didn't know. I felt loved, and because I was doing this in James' memory I felt that James was as well loved and still remembered, and that is really important for me."
Find out how you can take a on a fundraising challenge for Cats Protection and help cats across the UK.