Could you look past the sassy ways of Evesham Adoption Centre's longest-stay cat and offer her a home?
Lovely Seren has been in and out of our care since April 2021.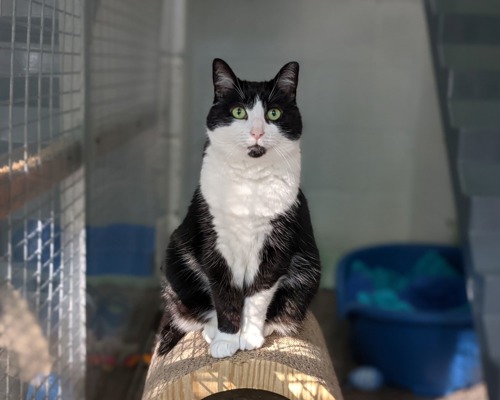 The 12-year-old moggy had previously lived all her life as an only cat but when her owner moved in with a new partner who also had a cat, the two felines were quick to show their discontent.
As the younger of the pair, Seren was first handed over to us a week before her 11th birthday and was returned most recently at the end of February, leaving her to spend her 12th birthday in care too.
Despite some promising starts, Seren's adoptions to date have only lasted between two and 10 days as her would-be adopters have been put off when she has lashed out in fear.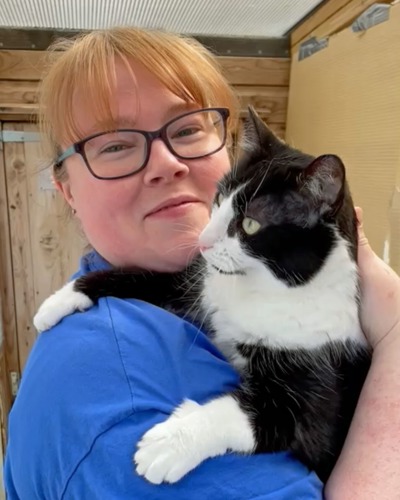 Seren enjoying a cuddle with Cat Care Assistant Louise Hill
Her current stay at the centre has already lasted over two months and she has watched other cats come and go, while she remains in her enclosure.
Although she was originally known for being nervous and afraid, after settling into her new routine and learning to trust people once more, she now greets the team at our Evesham Adoption Centre with a joyful quiver of her distinctive half-tail and cheerful meows.
"Like many of us, Seren can be unsure of changes to her environment and when she first comes home with you she will probably forget her manners for the first couple of weeks," said Centre Manager Charlie Hood.
"However, once she settles she really shows her affectionate side. If you can look past that initial sass and fear, Seren soon reveals herself to be a loving cat who enjoys spending time with you and will happily chat and enjoy cuddles once she has come out of her shell.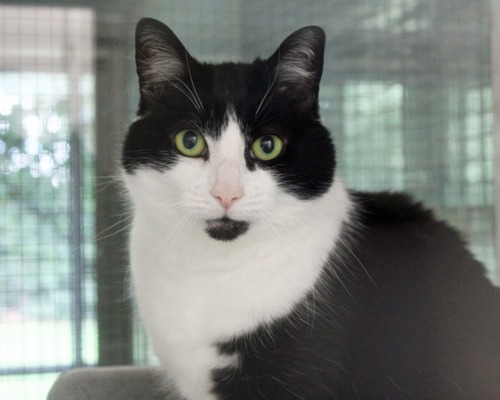 "She loves to play with a crinkly ball that makes a noise when she taps it and is a great fan of catnip!
"Seren has been used to having her own space and will need the freedom to be with you when she wants but also be able to go off on her own when she needs some space. Predictability is key and she would be a great companion for someone interested in cat behaviour.
"Seren is particularly comfortable with men, so having a male owner in the house would be ideal for her. If she's given that autonomy at the beginning she'll be settled with you before long and will gladly share all the love she has to give."
The team feel that Seren will be best suited to an experienced owner who has previously lived with cats who need time to settle in at their own pace. They should be able to work with her to show her she is safe, secure and loved. A home without children and where she can be the only pet is a must.
If you would like to offer Seren a home, please enquire about her via the Evesham Adoption Centre website or call them on 01386 833 343.