Bizarre reasons for handing a cat into Cats Protection's care.
Cats Protection takes in thousands of pet cats that are given up by their owners each year.
Usually the reason given is something like moving into a rented property with a 'no pets' policy or behaviour issues the owner can no longer cope with, but recently the charity has seen a worrying spike in more unusual reasons.
Bizarre reasons for people wanting to give up their cat include:
spirits telling a cat to knock ornaments off shelves
the cat causing damage to a model train set
frustration that kittens acquired online and believed to be female were in fact male
the cat cannot be 'unspayed'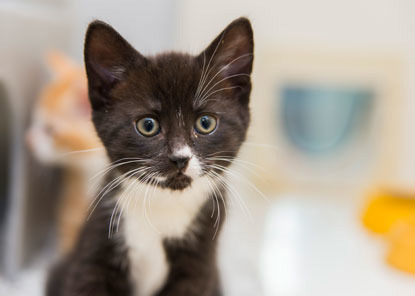 Thousands of unwanted cats are cared for by Cats Protection each year
As a result of this worrying trend, the charity is urging owners to think carefully before adopting a new feline friend.
"Although these reasons for giving up a cat may seem light-hearted on the surface, they highlight how important it is to research the impact of bringing a cat into a household and how a cat may impact the home environment," says Cats Protection's London Region Centre Manager, Michelle Igoe.
"Cats are engaging, fun and loving but care must be taken to ensure their needs are met and they can express their natural behaviours. At Cats Protection we look forward to taking the time to get to know prospective owners to ensure they fit the cat and the cat fits them."
Find more information about things to consider when choosing a cat.
Anyone wishing to adopt a cat should visit www.cats.org.uk/adopt-a-cat to find cats in their area.