Beautiful black cats take longer to rehome – can you offer one of these monochrome moggies a warm bed?
With just one day to go until National Black Cat Day, we thought we'd meet some of the darker cats in our care. Will you be the loving new owner these beautiful black cats need?
Black and black-and-white cats are sleek and striking, yet are often overlooked by potential adopters.
We think they make lovely pets so have organised National Black Cat Day on Thursday 25 October in celebration of these chic creatures. We hope to persuade more people to find a space on their sofa for black and black-and-white cats like these four fabulous felines:
Troy
Five-year-old male Troy is currently resident at our Bridgend Adoption Centre in South Wales. "He was admitted to the centre through no fault of his own," says Centre Manager Sue Dobbs. "He is a loving and friendly cat with a great personality and is sure to make purrfect feline friend."
Adopt him here: www.Bridgend.cats.org.uk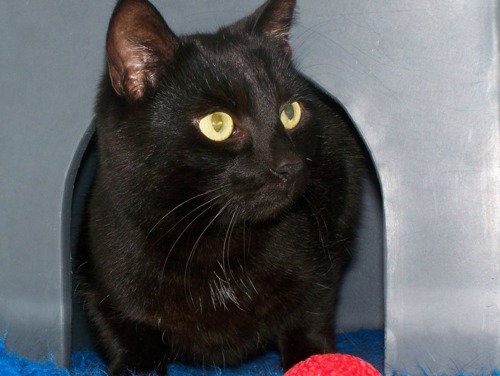 Troy: a loving and friendly cat
Freda
Our Milton Keynes & District Branch is looking after Freda, who was found scavenging foods from car park rubbish bins. This two-year-old female is friendly and affectionate.
Adopt her here: https://www.cats.org.uk/milton-keynes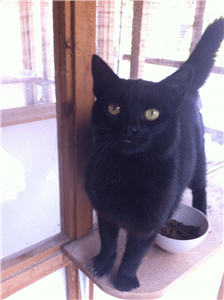 Freda: new owner sought
Rishma
Downham Market Adoption Centre in Norfolk is looking after sleek Rishma. "She's a bit of a diva, who wants her own palace and grounds to roam in with a servant or two to pander to her every need," says deputy manager Stacey Ely. "She has been in CP care for far too long and deserves to find that special someone!"
Adopt her here: www.downhammarket.cats.org.uk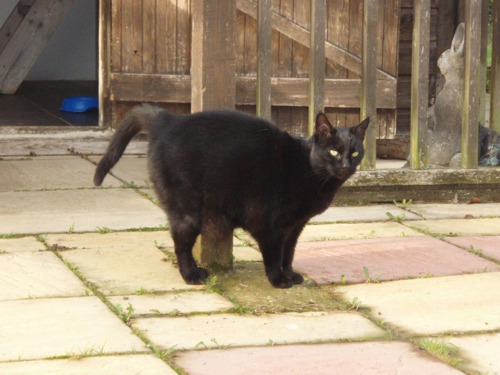 Rishma: human servant required
Mickey
Mickey is an affectionate older cat, around 14 years old and in the care of Scotland's Outer Aberdeen & District Branch. Branch Co-ordinator Liz Grant says: "He chats to you, walks to heel like a dog and adores being brushed and cuddled." Mickey, who has striking orange eyes, came into the branch's care when his owner died and he was left outdoors. "He needs a home where someone can fuss him in his retirement," says Liz. The branch will give Mickey's new owner advice on his hyperthyroidism.
Adopt him here: www.cats.org.uk/outeraberdeen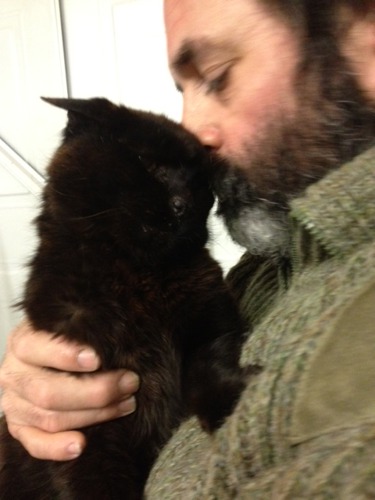 Mickey: loves cuddles
Give a black cat a better life
Across the UK, our branches are looking after hundreds of black and black-and-white cats just like Troy, Freda, Rishma and Mickey. We're giving them the best possible care but they need a home of their own. Will you give them a better life?
Click on www.cats.org.uk/find-us to find your local Cats Protection branch. Give our branch volunteers a call or look on their website to find out how to adopt a beautiful black cat.
And don't forget to join in all the fun on Thursday 25 October – National Black Cat Day. Post a pic of your black cat to Facebook or download our mask and take a snap. Everything you need is here: https://www.cats.org.uk/support-us/events/black-cats
Thank you for caring about black cats.