The tale of the stressed tabby cat who is now happy and thriving in her new home.
Tabby-and-white Jess had a traumatic experience with her previous owners. She was stressed and nervous when she came into Cats Protection's care.
Once under the wing of our Stockport Branch, Jess started to calm down and eat normally. She began to trust people again.
After many weeks of patient devotion, the branch decided that the five-year-old cat was ready for rehoming with an understanding owner.
With help from our Stockport Branch, Jess recovered from her ordeal
At the same time, local lady Janet Kiln had decided she'd like to home a new cat. Janet and her husband Nick were left catless when their grown-up daughter had moved out, taking her cat with her. Their home seemed empty without a feline friend.
"We were looking for a rescue cat, and an older cat, rather than a kitten," she says.
On first meeting Jess, Janet could see that she was timid, but something about her sad past and slightly grumpy-looking face made Janet want to give her a good home.
Janet wanted to rehome Jess when she heard her sad story
She needn't have worried. When Jess was delivered to Janet's home last year, she soon shook off her timidity.
"The Cats Protection lady brought Jess to us and stayed for about an hour," says Janet. "Within 10 minutes of the lady leaving, Jess had jumped onto the bed, where my husband Nick was!"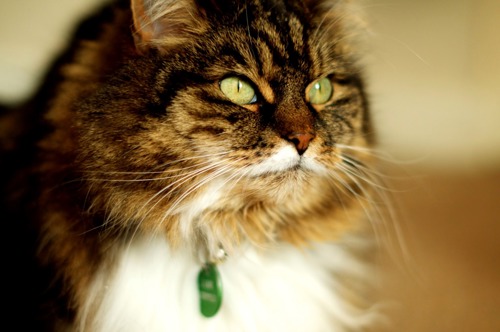 Jess quickly settled in with the Kilns
Jess is not a lap cat but likes to lay next to her owners, stretched out along the full length of their bodies. As she lived in a flat in her former life, she's not much of an outdoors cat, but has started exploring the outside world in short bursts.
Jess has settled in to her new home so well that Janet says she's the new head of the household.
"She has her own stool in the bathroom because she likes to be close to the bathroom radiator," laughs Janet. "She also likes to drink out of the taps and will come and find you to turn them on!"
Janet's daughter Jennifer Kiln took these lovely photos of Jess looking very relaxed in her new home. We hope you enjoy them.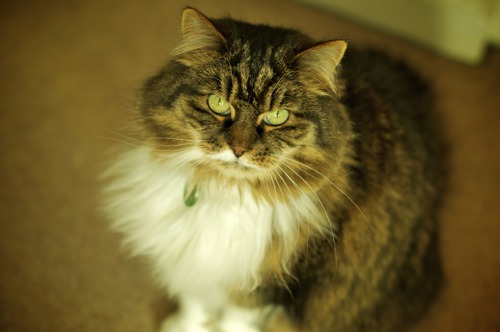 Jess's sad past is behind her