Our favourite cat poems this National Poet's Day.
Having a cat lends itself purrfectly to curling up with a book – what could be better on a quiet afternoon? In celebration of National Poet's Day, we've put together our list of top poems about cats.
Whether you're a fan of a classic verse or you've got a fancy for a feline fable, there is something for you to enjoy.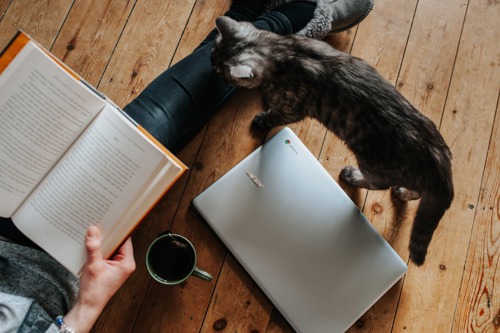 Macavity, the Mystery Cat, TS Eliot
Arguably one of the most famous cat-loving poets, TS Eliot's book Old Possum's Book of Practical Cats includes nonsense verses about cats for the writer's godchildren. Perhaps most notable is Macavity, a feline master criminal who will soon feature in film. In fact, the Andrew Lloyd Webber musical inspired by the poem, Cats, comes to the big screen in December.
"Macavity, Macavity, there's no one like Macavity, For he's a fiend in feline shape, a monster of depravity.
"You may meet him in a by-street, you may see him in the square – but when a crime's discovered, then Macavity's not there!"
The Owl and the Pussycat, Edward Lear
Featuring poetry's classic odd couple, this playful rhyme documents a love affair between an owl and a pussycat as they go to sea in a beautiful pea green boat. While the verse is completely rooted in fantasy, it is undoubtedly one of the most famous cat-themed poems.
"They dined on mince and slices of quince, which they ate with a runcible spoon, and hand in hand on the edge of the sand, they danced by the light of the moon."
She Sights a Bird, Emily Dickinson
This dramatic poem amps up the tension as it describes a cat as it spots a bird. Perfectly describing the cat's jaw stirring and her alerted stance, it is a short and sweet poem that cat owners can enjoy.
"She sights a Bird — she chuckles —
She flattens — then she crawls —
She runs without the look of feet —
Her eyes increase to Balls —"
The Cat and the Moon, WB Yeats
A mystical poem by famed Irish poet WB Yeats, The Cat and the Moon focuses on a cat trying to teach the moon to dance and is both romantic and dreamlike.
"Minnaloushe creeps through the grass, alone, important and wise, and lifts to the changing moon his changing eyes."
Cats Sleep Anywhere, Eleanor Farjeon
Many cat owners will be familiar with their cat's strange sleeping habits – and their penchant for choosing a place to snooze! This poem focuses on their many napping spots throughout the house, in a humorous rhyme.
"Fitted in a cardboard box,
In the cupboard with your frocks,
Anywhere! They don't care! Cats sleep anywhere!"
Do you have a favourite cat-themed poem? Let us know by tweeting us @CatsProtection.