Celeb Chizzy Akudolu volunteers to help cats at our Mitcham Homing Centre.
Holby City and Strictly Come Dancing star Chizzy Akudolu recently took time out of her busy schedule to help out at Cats Protection's Mitcham Homing Centre in South London.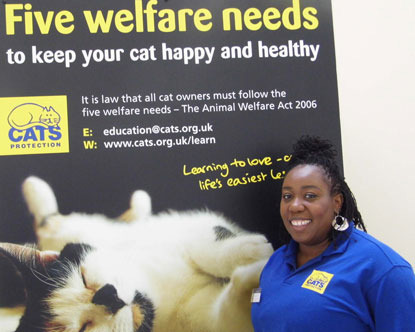 Chizzy spent the day volunteering with Cats Protection
Chizzy, who has her own cat called Bootsy, spent the day feeding the cats in the centre's care and cleaning out their pens as well as tweeting about all the adorable moggies she met.
One of the cats she had the pleasure of fussing was five-year-old tabby-and-white cat Rice who is FIV-positive.
"Rice is absolutely adorable and cuddly, a real sweetie who would make a lovely pet," says Chizzy.
"FIV is a virus in cats that is similar to the human virus HIV, but it does not affect humans. Cats like Rice can live for many years in good health, provided they are kept indoors to reduce the risk of them spreading illness to other cats or being affected by other infectious diseases to which they are susceptible."
"This means Rice would be absolutely ideal for a flat or a house without a garden, and there are plenty of those in South London! If you can give an FIV-positive cat a home then do get in touch with the centre."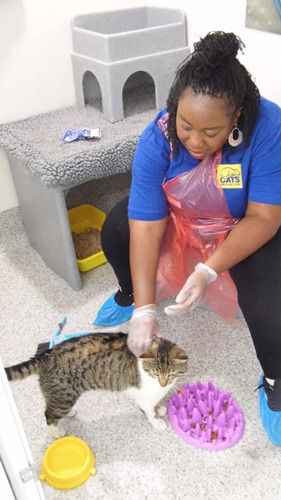 Chizzy having a fuss with Rice the cat
Cats Protection's Mitcham Homing Centre needs more volunteers like Chizzy to help them care for cats in South London.
"For every cat we help, there's another waiting cat to come in, so we need volunteers to care for cats in their own home until a new owner can be found" said Rosie King, the centre's Deputy Manager.
"No special equipment is needed but cat fosterers need to have either a spare room or an area in their garden where a cat pen can be housed, and of course a love of cats is a must. The centre will provide plenty of assistance and support materials for all fosterers.
"We can promise a lovely team environment and a lot of satisfaction helping unwanted cats to get a second chance in life. If this sounds like something you'd enjoy then please get in touch."
To contact Cats Protection's Mitcham Homing Centre, please call 0300 012 0285 or email mitcham@cats.org.uk