Home needed for special cat Clawdia with only two toes.
A tabby-and-white moggy in the care of Cats Protection's Warrington Adoption Centre has some very unusual paws.
While most cats have five toes on each of their two front paws, 11-year-old Clawdia was born with just two.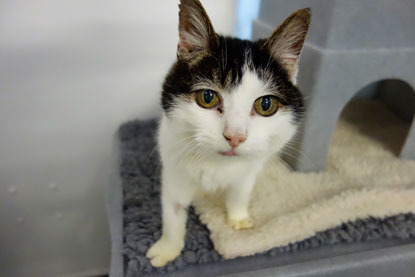 Clawdia has only 12 toes, instead of the usual 18
Sonia Scowcroft, the centre's manager, said: "When she arrived in our care, we noticed that she was missing three toes from each of her front paws. We believe she was born like this but it doesn't stop her from living a completely normal life.
"She is a super-friendly cat who absolutely loves attention. Since being at the centre, she's already won the hearts of every staff member."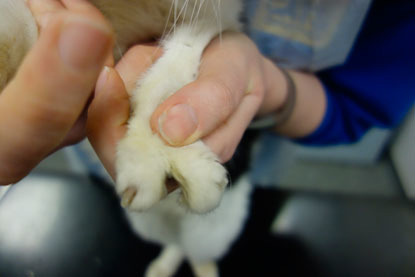 Clawdia's front paws have only two toes each
Clawdia came to the centre after being found as a stray in the Great Sankey area of Warrington, and the staff have made every effort to find her original owners.
Sonia added: "We are looking to find a new home for Clawdia but we never give up hope that her original owner might see this appeal and come forward. Unfortunately, as Clawdia was not microchipped, we have no way of tracing her original owners."
Like all Cats Protection's cats, Clawdia is now neutered, vaccinated and microchipped and is up-to-date with her flea and worm treatments. In addition, she also has four weeks' free pet insurance.
If you would like to offer Clawdia, or any of the other cats in the care of the Warrington Adoption Centre, a home, call 03000 12 06 12 or visit their website.
Find out more about the benefits of microchipping your cat.