Volunteering at Christmas: How our dedicated volunteers continue caring for cats over the festive break.
While you're unwrapping presents and tucking into Christmas dinner with all the trimmings, there will be caring cat lovers up and down the UK who will be busy with a very important task.
Cats Protection will be caring for thousands of cats over the festive period, and so we rely on dedicated volunteers to make sure they receive the care and attention they need every day of the year – even on 25 December.
Here are some heart-warming stories from just a few of the hard-working volunteers who will be looking after unwanted cats this Christmas…
Carol Woodward – Cat Care Volunteer at National Cat Adoption Centre, Sussex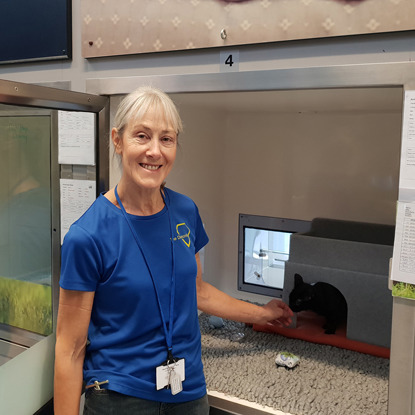 Carol helps care for cats waiting for new homes
"Christmas Day was always a grand affair with the family, friends, waifs and strays all coming to my house for lunch. Makeshift tables and borrowed chairs would be set-up wherever there was room, the importance being to ensure no-one spent time alone on this special day. My cats would get spoilt rotten (they would always get a Cats Protection catnip banana for Christmas, which they loved) and I would end up an exhausted, frazzled wreck by the end of the day. It was lovely but with the younger family members growing up and having families of their own, it is now their turn to play hosts to us more 'senior' members.
"Following early retirement from work, I recently became a volunteer Cat Care Assistant at the National Cat Adoption Centre and have enjoyed every minute of it. When the call went out for assistance on Christmas Day morning, I didn't hesitate to offer. With no need this year to rise at 5am to get the turkey in the oven, what better way to start the day than caring for the cats and giving them an extra festive cuddle. Hopefully, it will also enable one of the permanent Cat Care Assistants with a young family to get home a bit earlier and spend more time with them.
"Weather permitting, this will be followed by a run or bike ride (a great de-stress prior to a busy day ahead) before heading out to spend the rest of day with my husband and family and hopefully being waited on by them for the rest of the day while I put my feet up! Exchange of presents can wait but a cat's hungry belly can't."
Linda Hartley – Branch Coordinator of Isle of Arran Branch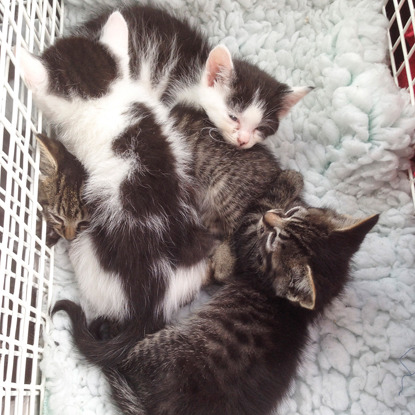 A litter of kittens cared for by Linda 
"I am always available Christmas Day, as I have been every year for 12 years. Being available on Christmas Day means being ready to answer that phone when it rings with whatever problem comes across and trying to find a way to help someone as well as their cats. Calls have come in from Islay, from Kintyre as well as the mainland and here on the island and sometimes they are not the most pressing but to them it might be so I am ready and waiting whatever day of the week, or month, to help a cat in need."
Niccy Townley – Branch Coordinator of Cambridge Branch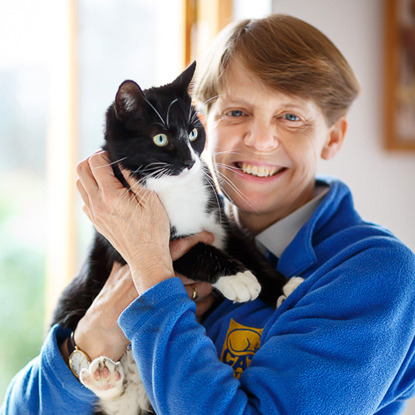 Niccy is always ready help people with their cat care needs 
"I will almost certainly be volunteering this Christmas Day. I'm branch coordinator and also fosterer so will be feeding and looking after my foster cat and/or kittens. If there are any other fosterers locally who are away I will feed their foster cats too. We also feed very many ferals in the area, in particular, I am dealing with a large feral colony at a huge recycling plant so I'll inevitably feed these cats as nobody else feeds them. Our phones are never turned off so if there are any calls made to us they will be dealt with too."
If you would like to learn more about volunteering with Cats Protection, visit https://www.cats.org.uk/support-us/get-involved-volunteering for more information about the different roles available.