Meet the gardening volunteers who look after the outdoor space at our Belfast Adoption Centre.
To celebrate Volunteers' Week from 1-7 June, we are highlighting the wide range of voluntary roles available within Cats Protection, which enable cat lovers from all walks of life to get involved.
As well as being hands-on with cat care, volunteers can help with all sorts of roles at our branches, shops, centres and teams across the UK. Some of the more unexpected roles include helping manage branch websites, volunteering in shops, taking calls from members of the public and gardening at the charity's centres.
John and Fay Cardwell became volunteers for the charity after adopting their own cat, Jack, from Cats Protection's Belfast Adoption Centre. They now spend one day a week tending to the plants and outdoor space at the centre to make it more attractive for visitors.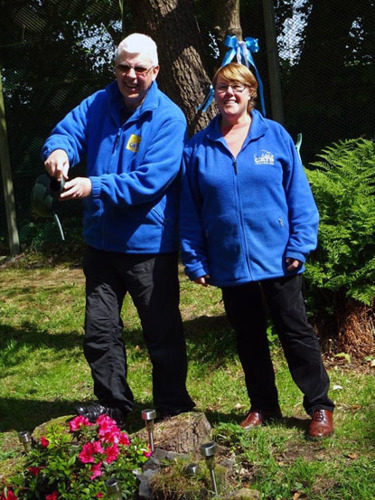 John and Fay watering plants in the garden
John says: "Fay and I have been volunteering with CP for just over four years. Shortly after losing our first cat to old age six years ago we thought we should give another cat a home and went along to Belfast Adoption Centre with the idea that we would take the cat that nobody wanted.
"One of the staff, Sue, who has since become a very good friend, showed us around and when we got to 'One Eyed' Jack she told us everybody just walked past him. This was the cat for us and he is unquestionably the best cat in the world! Over the next two years we attended open days and events and got to know more of the staff and slowly came to realise that there was a need for volunteers at the centre so we filled out the required forms and eventually arrived one Wednesday morning early ready to volunteer."
Volunteering means a lot to the couple and they've made a lot of friends in the other volunteers and staff.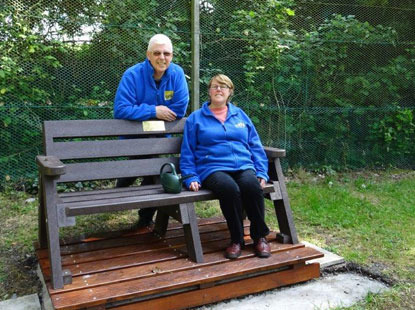 John and Fay on the centre's memorial bench
"With those friendships we have access to a wealth of knowledge of feline health as well as the many courses where we have had expert tuition. We have a much better understanding of cats now than when we started and of course we get to spent time with cats that have often been on the receiving end of the worst of human nature and it gives us the chance to try to show the cats that not all humans are bad."
To anyone else thinking about volunteering for Cats Protection, John says: "Go for it. You will meet the best of people and the cats aren't too bad either!"
To find out more about volunteering and view some of the currently available roles to apply for, visit www.cats.org.uk/get-involved/volunteering