Find out what it's like to be a cat care volunteer for Cats Protection this Volunteers' Week.
Caring for abandoned and unwanted cats is a big part of what Cats Protection does, but we wouldn't be able to help thousands of cats each year without our team of dedicated cat care volunteers.
While they're waiting to find their forever homes, the cats are cared for in our 36 centres or in the homes of our volunteer fosterers. Our cat care volunteers help to look after the cats and meet their needs while they are in our care.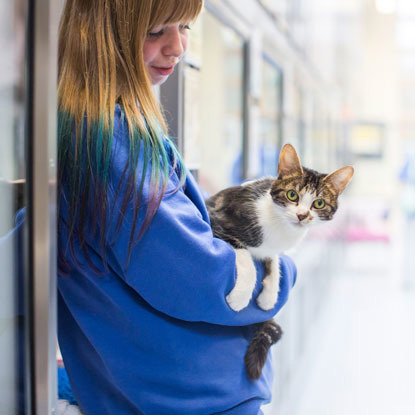 It's a purrfect role for cat lovers, as you'll get to spend time directly with the cats before they find new owners. It's also a great way to learn more about cats and make a real difference to their lives as you'll be helping to prepare them for their new homes. You'll also be working as part of a team, so you might just make some new cat-loving friends too!
To find out what a day in the life of a cat care volunteer is like, watch our video below:
What does the role involve?
Cleaning the cat pens
Grooming the cats
Feeding the cats
Handling and playing with the cats
What skills/experience do I need?
Basic knowledge of cats and cat care
Patience, perseverance and empathy
Willingness to be part of a team
Good interpersonal and observational skills
How many hours do I need to give?
This is a flexible role and most cat care volunteers usually give around two to three hours a week. However, the role can be shared between more than one volunteer if needed.
To find out more about volunteering with Cats Protection or to apply for one of our many volunteering roles, visit https://www.cats.org.uk/support-us/get-involved-volunteering.