Are you the kind and patient new owner that Weetabix has been looking for?
Cats Protection's Lancaster & Morecambe Branch is looking for someone to adopt gorgeous moggy Weetabix and help her overcome her toileting issues.
The sweet moggy came to the branch after being found as a stray and it was soon discovered she had problems with her back legs.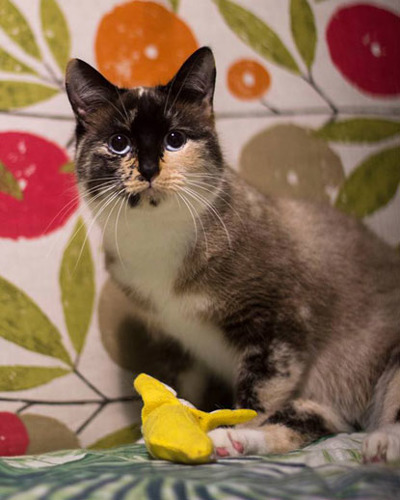 Can you give Weetabix a home?
With the help of plenty of exercise her legs are now getting stronger – she can now walk and jump around as normal – but she is still having issues with using her litter tray.
The vets hope that as her strength continues to improve, her toileting issues will stop. In the meantime, she really needs an understanding new owner who has the time and patience to help her overcome her problem.
Weetabix is very cuddly and playful and adores being fussed over, brushed and praised. Her current fosterer Eileen says: "Despite her legs not working to their full potential, she uses her upper body to climb wherever she desires. She is determined to get better and it seems that every week her back legs keep getting a tiny bit stronger. She also has the most gorgeous blue eyes and always makes eye contact with you when you speak to her."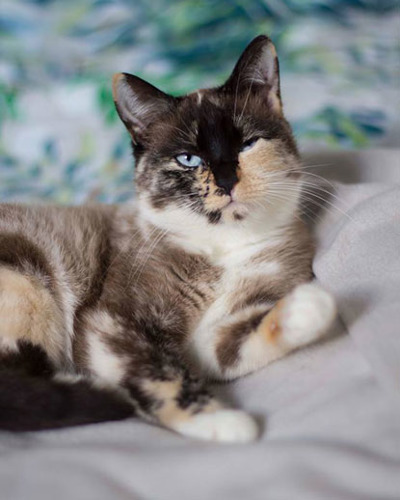 Weetabix loves cuddles and nose kisses
Ideally, Weetabix's new owner would have an easy-to-clean room where she can go to the toilet and have the time to settle her into a toileting routine. The branch would also be willing to consider someone who can offer her an outhouse or barn to live in, but it would need to be safe, secure and warm.
Can you show Weetabix the love and affection she deserves? If you think you can offer her a home, please call Cats Protection's Lancaster & Morecambe Branch on 01524 850 112. Leave a message with your name and number and they will call you back for a chat as soon as possible.
To find a new feline friend available for adoption in your area, you can search on our website here. You can also find helpful advice on cat toileting issues on our Help & Advice pages.