Looking to treat yourself or a loved one to a bouquet or indoor plant? Discover where to buy pet-friendly flowers online
A beautiful arrangement of flowers or a stylish houseplant is an ideal gift for a loved one or a treat for yourself to brighten up your home. But did you know that some plants can be highly toxic and even fatal to cats?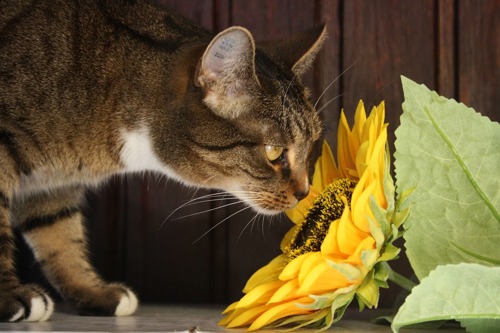 Flowers commonly found in bouquets such as tulips, daffodils, iris and peonies can be poisonous to cats if they eat them, and lilies should definitely be avoided. Even if a cat simply brushes against a lily and then licks some pollen off their fur, they could become seriously, and possibly fatally, ill.
Care should also be taken when purchasing indoor plants, as varieties such as dumb cane, cheese plants and aloe vera are not cat-friendly.
If you or the person you are buying for has a pet cat at home, you'll need to make sure the gift you give will not put any cats in danger, and luckily there are quite a few companies making that easy.
To help you pick out the purrfect plants, we've put together a guide to online retailers offering plenty of pet-friendly options.
Cat-friendly indoor plants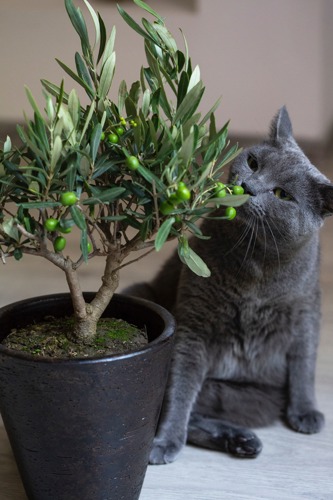 Patch
When browsing for plants on Patch, you can filter your search to show only the options that are pet-safe by ticking the 'Child and Pet Safe' box in the filter side-bar. As well as offering a stylish range of indoor plants, they also sell outdoor plants too.
The Little Botanical
Not only do The Little Botanical offer a tick box to filter for plants that are pet-friendly, they also have a useful pet-safe plants guide with lots of inspiration for what gorgeous greenery to choose. All of the products on their site are also clearly labelled pet-friendly or not in the product information.
Leaf Envy
With a page dedicated to their pet-friendly plant selection, it's easy to find a stylish indoor plant with Leaf Envy. They also have a 'pet-friendly' filter via their 'plant features' drop-down menu and offer a stunning handpicked collection of pet-friendly and easy-to-care-for houseplants, doing all the hard work for you.
Beards & Daisies
There's a whole page of pet-friendly plants to choose from at Beards & Daisies, ranging from small succulents to tall palms. They also clearly label which plants are toxic to cats and dogs in the product descriptions, and offer a pet-friendly plants subscription so you can get a new delivery every month.
Bloombox Club
Bloombox Club's pet-friendly plants page is full of stylish houseplants in equally gorgeous pots. Over on their The Green Room Blog they also have tips for creating a pet-friendly garden and advice on avoiding toxic plants, plus they clearly label which plants are pet-friendly in their product descriptions.
The Stem
On their pet-friendly plants page, The Stem have a wide selection of beautiful houseplants that are non-toxic to your furry friends and child-friendly too. Plants are available in a range of sizes and you can choose a pot that suits your style. 
Cat-friendly flower bouquets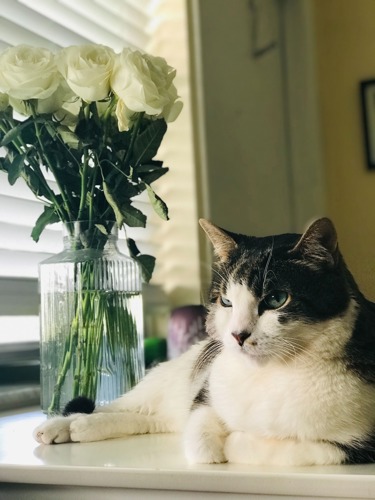 Bloom & Wild
Online florist Bloom & Wild offer lovely letterbox flowers and hand-tied bouquets, as well as houseplants and a flower subscription. Their website features a great guide to pet-friendly petals, listing lots of plants that pet-owners should avoid, and also ones that are perfectly safe.
Appleyard
The pet-friendly flowers section of Appleyard's site features lots of cat-safe blooms that will make the perfect gift, including roses and orchids. They also provide advice on which flowers are poisonous to cats and dogs, so you know which ones to be wary of.
Flying Flowers
With plenty of bouquets available with free and fast delivery, Flying Flowers are a good option for all occasions and last-minute gifts. Their website features a guide to keeping your pets safe, with a list of cat-friendly flowers linking to bouquets ready to order.
Labelling pet-safe plants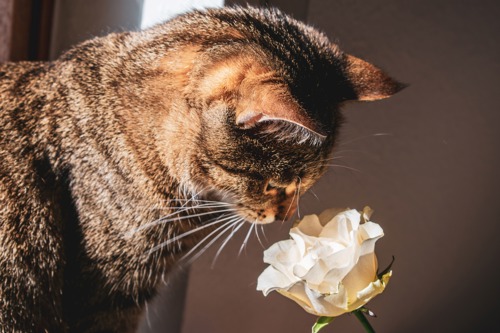 Despite some flowers and houseplants being highly toxic to cats, many supermarket, shop-bought and online flowers and plants are generally sold with inadequate warnings to alert consumers to the dangers of certain flowers to cats and other pets. Cats Protection is calling for the introduction of a mandatory 'pet safe' sticker scheme for all retailers to use so consumers can choose to buy flowers and plants that are labelled as safe for pets.
To find a list of the plants that are dangerous to cats, and advice on what to do if you think your cat has been poisoned, visit www.cats.org.uk/dangerous-plants