Feline behaviourist Nicky Trevorrow discusses energetic kittens and aggression, identifying the causes of cat stress and litter tray problems.
In our most recent live Facebook Q&A session, Cats Protection Behaviour Manager Nicky Trevorrow answered a range of questions about cat behaviour.
It's important that if you notice any change in your cat's behaviour, you get them checked by a vet to ensure there are no underlying medical causes. Your vet will have access to your cat's history and will be able to carry out a full examination. If your cat's given a clean bill of health you can investigate a behavioural cause by contacting a qualified behaviourist at www.apbc.org.uk
Here are some of the questions that Nicky answered:
Why does my cat look like he's trying to hide his food?
It looks like he's scratching the floor and trying to cover it with imaginary dirt.
There are a few possibilities here. If your cat eats from the bowl quite well and then does the scratching behaviour and walks off, then it could be a 'caching' behaviour leftover from the African wildcat days, eg saving the food for later.
However, if your cat approaches the food, gives it a sniff and then starts doing it without eating the food, perhaps there is something putting him off. Try different types of bowls (eg ceramic), placing the bowl away from his water bowl and away from the wall so that he can see the room more easily.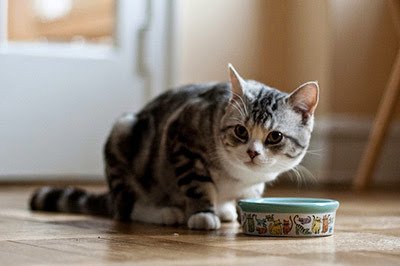 Photo by Tom Thai via flickr / Creative Commons
My cat keeps pulling fur out of his legs and tummy – what can we do to help?
We have taken him to the vet and they said he was stressed. He gave us tablets but my cat refused to take them and the ordeal of trying to force him to take them seems to have stressed him out more. We have tried Feliway®. Do you have any ideas?
This seems to be quite a common problem. The best thing is to identify the root cause of the problem and a qualified behaviourist can help with this.
In the meantime, ensure your cat has plenty of places to get up high, lots of places to hide and plenty of other resources (eg litter trays, water bowls etc) in lots of different locations around the house.
To learn more about your cat's behaviour, check out our free e-learning courses. Also, check out our leaflets called Understanding your cat's behaviour and Managing your cat's behaviour.
We have a very playful but boisterous 14-week-old kitten. We can manage the hand and arm biting but what it the best way to stop him from running up and biting and scratching faces?
At the moment I've been trying to take him off, tell him 'no' and give him a toy. Any ideas?
Kittens are often more energetic than we remember them being! That said, they need to be encouraged to chew and pounce on appropriate items such as toys.
Ensure that you and everyone in the household is suitably covered in thick clothing to prevent injuries. For any bites and scratches, please consult medical advice.
Fishing rod toys are great for redirecting this behaviour onto something appropriate. Buy a few and stash them all over the house so it's easy to get hold of one. Remember to always let the kitten catch and 'kill' the toy and store them safely out of reach after use. You'll need to do this very consistently so that they learn appropriate play. Best of luck!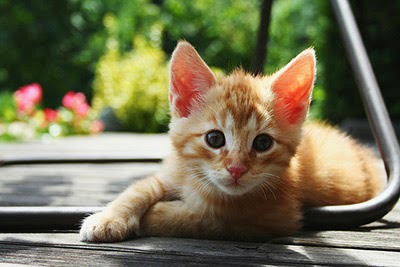 Photo: CP Library
My two-year-old male cat was neutered two weeks ago but he is still peeing everywhere if he is not close enough to his tray.
It's almost as if he can't help himself and when told off runs off while still peeing. Does he have a weak bladder? What can I do?
Sorry to hear about your cat. Firstly I would take him back to the vet and get him fully health checked, including a urine sample tested.
Once you've checked your cat's health at the vets, try:
Cleaning litter trays twice a day
Putting litter trays in quiet, private locations
3cm of soft sand-sized litter, non-scented
A large litter tray not kitten-sized, covered as well as open ones for choice
Don't use odorisers or litter tray liners

Ensure that your cats have lots of resources (litter tray, food bowl, water bowl etc) – ideally one per cat plus one extra to avoid any competition.
It's important to differentiate between inappropriate urination (a puddle on the floor) versus spraying (backing up to a vertical surface and spraying a small amount of urine). Each has different motivations.
To identify the underlying behavioural cause, we recommend that you find a qualified behaviourist near you; and do have a read of our Managing your cat's behaviour leaflet.
Please don't tell your cat off as it will only make the problem worse. Hope it resolves soon!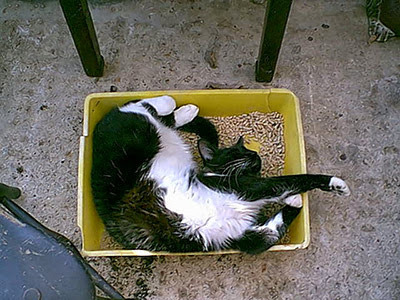 Photo by Leonora Enking via flickr / Creative Commons
I have a question about my mum's kitten. He is almost five months old now, he's quite aggressive and bites/scratches constantly.
He doesn't like to be held or stroked. He is also very possessive over his food. He growls and will attack if you get too close! He is a beautiful kitten. What can we do about his behaviour?
Sorry to hear about your mum's kitten. This doesn't sound like normal kitten behaviour. Where did your mum get her kitten from? Do you know whether she saw the kitten with his mum and siblings? Was the kitten socialised to people during the ages of two-seven weeks? Kittens need to have positive experiences with people and gentle handling at this age to get used to humans, otherwise, they can show feral type behaviour and be quite fearful.
I would suggest taking the kitten to the vets to rule out medical reasons for the behaviour. The number one medical reason for aggressive behaviour is pain, although there are LOTS of possible different causes. If you are still having problems after the vet check, then get a qualified behaviourist involved.
Is there somewhere or someone we can approach to help with one of our five-month-old kittens?
We adopted two sisters from Cats Protection at 14 weeks and while one is really affectionate and happy to sit on laps etc, but the other, we can't get near. She is constantly on edge, we have never been able to stroke her and she makes no noises or gestures towards us. It's like we are only really living with one kitten and I feel like the second is missing out. I hate to think she's unhappy. Any ideas?
I'm really sorry to hear that one of your kittens is so quiet. I would suggest speaking to your local CP branch or adoption centre to find out more about the kittens' backgrounds. Sometimes, we don't always know the backgrounds if they were found as strays, however it would be worth trying to find out how well socialised these kittens were.
Genetics also play a role as fearful fathers tend to produce fearful kittens and one litter of kittens can have several fathers.
Just take it gently with your fearful kitten and give her plenty of places to hide and get up high so she feels safer, and allow her to come to you in her own time. Contact our national helpline if you are still having problems on 03000 12 12 12. Best of luck.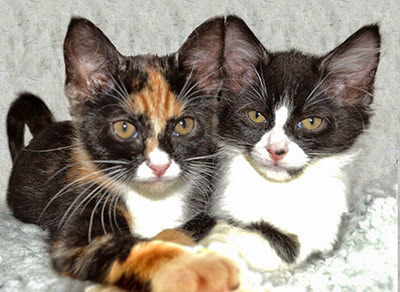 Photo: CP Library
Thank you to all of our Facebook supporters who took part in the Q&A with Nicky. The next live Q&A is on 31 October with our Neutering Manager. 
If you have a question, you can find lots of essential cat care information and advice on our website. 
If you have any concerns for your cat's health, please do consult your vet.