Brother and sister put on their running shoes to raise money for cats like their own ginger puss Red
Cat fans of any age can fundraise for Cats Protection, as you're never too old or young to help our feline friends in need.
Primrose Everitt, aged 11, and her brother George, aged 10, from Exeter, took part in our Miles for Moggies challenge in 2021, running an incredible 26.4 miles throughout April to raise money for a cause close to their hearts.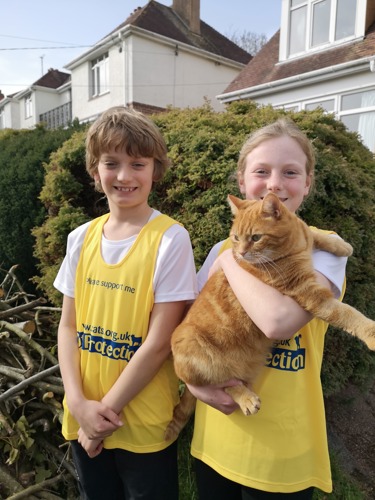 Primrose and George with their cat Red
"Our cat is a ginger boy called Red," said Primrose. "We have had him for three years and adopted him from the Cats Protection Exeter Axhayes Adoption Centre. He has all of us, and all our neighbours, wrapped around his paws! 
"We decided to do the challenge because we wanted to help other cats like Red. It also, gave us motivation to get more active and keep going."
Thanks to their determination, and the generosity of their family and friends, the siblings raised an amazing £220 in sponsorship from their challenge, which will go towards providing the cats in our care with everything they need while they wait for new homes.
"Although we found it tough at times, the best bit was getting back after each run and feeling really good," added George. "It feels great to know we've helped other cats and supported such a good charity.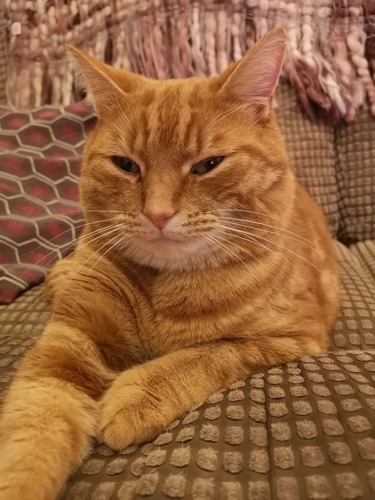 Red the ginger puss
"We would love to do more fundraising for Cats Protection. We have already also collected copper coins and taken part in the Craft for Cats activities."
The cat-mad duo also had some handy hints for anyone else thinking of taking on the Miles for Moggies challenge.
"Our top tip is to break the whole distance up into manageable chunks – we ran two or three miles at a time. Also, keep a total as you go – it's great to see the miles stack up!"
If you would like to take on our Miles for Moggies challenge, running a marathon distance of 26.2 miles during the month of April, you can find out more and sign up at www.cats.org.uk/milesformoggies Our younger supporters, aged under 18, can get their parent or guardian to sign them up for Mini Miles for Moggies here too!
If you raise £150 or more for the cats in our care, you'll get a pair of exclusive Cats Protection socks to put a spring in your step.