Keen baker Mindy's cat cakes were judged by The Great British Bake Off's Kim-Joy
When 10-year-old cat-lover Mindy heard about Cats Protection's Pawsome Baking Challenge, she couldn't wait to take part.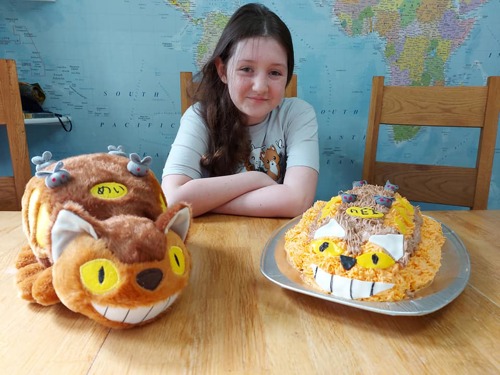 Mindy with her Cat Bus cake inspired by the film My Neighbour Totoro
"I love baking and cats!" said Mindy. "Also, Kim-Joy is one of my heroes, so I was very excited to learn she would be judging."
The Pawsome Baking Challenge saw cat-loving bakers across the UK sharing photos of their showstopping creations on our social media channels. It was then up to our celebrity judge Kim-Joy, who was a finalist in the 2018 series of The Great British Bake Off, to pick an overall winner.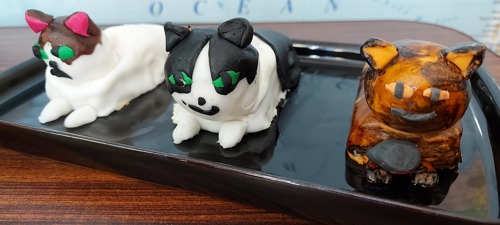 Mindy's cakes decorated to look like her own cats Tsuki, Hoshi and Jupiter, with flavours to match their personalities 
Mindy's bakes were inspired by some of her favourite things, including the film My Neighbour Totoro and her own rescue cats; Hoshi, Tsuki and Jupiter.
In fact, it was Jupiter who gave Mindy the idea to raise money for our Gildersome Homing Centre. "Two years ago we adopted Jupiter from the Gildersome Homing Centre. She is purrfect! I wanted to help all of the other cats and kittens too, so they can be cared for and find good homes."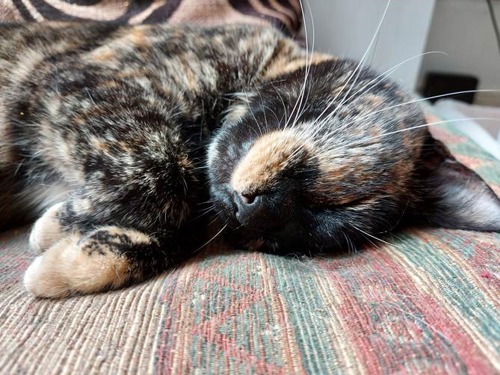 Mindy's cat Jupiter, who was adopted from Gildersome Homing Centre
After the four-week challenge, in which there was a new baking theme each week, Mindy raised an amazing £194, smashing her target of £100.
"I was very grateful to my friends and family for sponsoring me. I hope it will help other cats and kittens, like Jupiter, until they can find their furever homes!"
The Pawsome Baking Challenge was such a success that it's now back for 2021. Throughout April there will be weekly categories for bakers to enter with their cat-themed bakes and Kim-Joy is back as our judge. The challenge is open to adults and children with the category winners receiving a Pawsome Baker wooden spoon and the overall winners receiving a signed copy of Kim-Joy's book.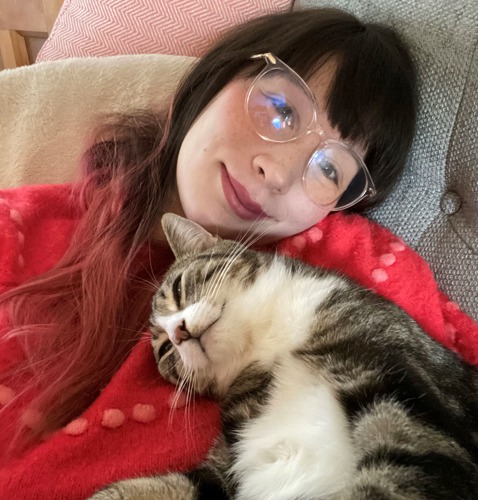 Kim-Joy with her cat Mochi
"This competition is a fun way to lift the lockdown blues and celebrates how pet cats really brighten up a home," says Kim-Joy.
"I've been using the extra time at home to create and send bakes to my family and friends, though my cats Inki and Mochi like to hinder me by sitting on the recipe books or working together to steal a bake!
"My cats put a smile on my face and I like doing my bit to help thousands of unfortunate felines who don't yet have a home."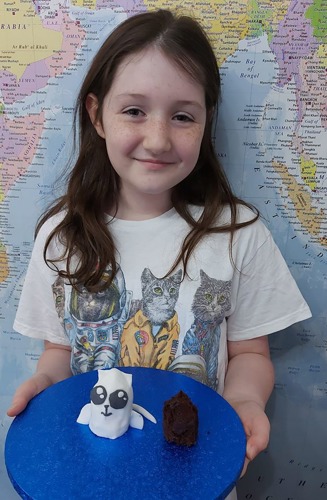 Mindy with her rocketship cat cake
To help you prepare for the challenge we asked Mindy for her top fundraising tips: "My friends and I organised a coffee morning fundraiser for Cats Protection a few years ago. It was hard work, but lots of fun! So, if possible, try and team up with other people. I hope I can get some of my friends and family to join in with the Pawsome Baking Challenge this year."
And what did Mindy think was the best bit about the challenge? "Being able to raise so much money to help Cats Protection. I also really liked it when Kim-Joy commented on one of my bakes."
To register for the 2021 Pawsome Baking Challenge, visit www.pawsometea.org by 31 March. On your marks, get set, bake!