Just as much fun – National Black Cat Day to celebrate misunderstood monochrome moggies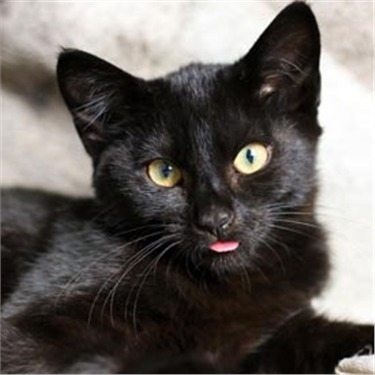 Forget blondes - when it comes to cats most people think it's gingers and tabbies that are the most fun, according to a new survey.
Research carried out on behalf of Cats Protection found that black cats are perceived as less playful and friendly than their more colourful counterparts.
But while the findings may help to explain why black cats tend to wait longer to find new owners, the UK's largest cat charity said that in reality a cat's colour has no bearing on its temperament.
The charity published the survey ahead of this year's National Black Cat Day on Thursday 27 October, an event designed to encourage more people to adopt a less colourful puss.
Black or black-and-white cats – which account for nearly half of all cats coming into Cats Protection's care – typically wait 22 per cent longer to find a new owner than others.
According to those surveyed using a sliding scale, monochrome moggies are seen as less friendly, playful, vocal and attention-seeking than gingers or tabbies, which typically find new owners faster.
"There is a tendency to see the black cats as less exciting which we think is because they are much more common among the cat population," says Cats Protection's Social Media Manager Gemma Croker.
"When people visit any of our branches and adoption centres, they can be faced with a large number of black or black-and-white cats so their eyes tend to wander over to the brighter-coloured tabbies, light tortoiseshells and gingers who look more exciting to adopt.
"It's only natural that people will have some view on what a cat may be like based on its looks. But just like with humans, it's impossible to make a judgement based purely on how a cat looks. We want to break down the myths and show that beauty really is more than fur deep."
The survey of 1005 people, carried out in October 2016, asked for people's perceptions of cats which were either black, ginger, tabby or tortoiseshell.
Other findings were:
Nearly three quarters of respondents (73 per cent) say that looks are at least 'somewhat important' when adopting a cat.
Nearly three quarters of respondents (69 per cent) say that colouring is at least 'somewhat important' when adopting a cat.
The top three attributes Brits think will increase a cat's chance of adoption first are based on whether they are the best-looking (34 per cent), their cuteness (32 per cent) and their friendliness (22 per cent).
Despite being seen as less friendly and playful than more colourful cats, it seems black cats do have superstition on their side. More than a third of Brits say they considered black cats lucky (34 per cent), as opposed to unlucky (21 per cent).
Cats Protection's National Cat Adoption Centre Manager Danielle Draper said: "It can be a real struggle to find homes for the black and black-and-white cats in our care, especially as they account for nearly half of the more than 5,000 cats that are in the charity's care across the UK."
"These findings seem to suggest that people find black cats a little dull when compared with other colours. But the reality is that you really can't predict what a cat's temperament will be like based on the colour of its fur.
"Black cats are just as fun-loving, mischievous and playful as any other cat and have just as much to offer in terms of companionship.
"By holding our annual National Black Cat Day we'll be celebrating all the fantastic monochrome moggies from across the UK and hoping to inspire more people to adopt one."
As well as releasing the survey findings, Cats Protection has launched a competition to find the feline face of this year's National Black Cat Day. For your monochrome moggy to be in with a chance of being a black cat pin-up, please visit Cats Protection's social media channels at www.facebook.com/catsprotection or @CatsProtection on Twitter and follow the competition instructions.
Alternatively, to find out more about the competition, sponsor a black cat, pick up a black cat gift or watch Cats Protection's National Black Cat Day YouTube video, please visit www.cats.org.uk/black-cats
Cats Protection is the UK's leading cat welfare charity and helps around 500 cats a day – or 200,000 cats and kittens each year - through a national network of over 250 volunteer-run branches and 32 centres.
Ends
For more information please contact Cats Protection's Media Office on 01825 741 911 or email media.office@cats.org.uk or @CPMediaTeam on Twitter.
Notes to Editors:
Findings come from an online survey of 1005 members of the public conducted in October 2016 by Atomik Research.
Cats Protection is the UK's leading cat welfare charity and helps over 200,000 cats and kittens each year through a national network of over 250 volunteer-run branches and 32 centres.
Cats Protection's registered charity number is 203644 (England and Wales) and SC037711 (Scotland). The charity's vision is a world where every cat is treated with kindness and an understanding of its needs.
Founded as the Cats Protection League in 1927, the charity adopted the name Cats Protection in 1998. We ask that you use the name Cats Protection when referring to the charity in all published material.
More information about the work of Cats Protection can be found at www.cats.org.uk