Two tiny kittens, born with a rare genetic condition causing them to have extra toes, have charmed staff at Cats Protection's North London Adoption Centre.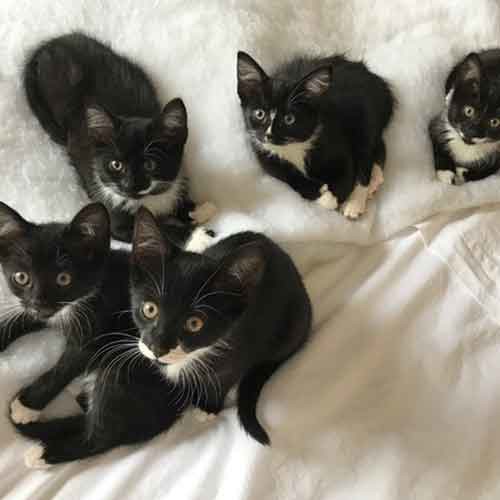 Eleven-week-old sisters Boots and Mittens have more than the usual 18 digits, thanks to the inherited condition known as polydactyl.
Boots has 24 digits, with an extra toe on each paw, and Mittens has 22 digits, with an extra toe on each of her front paws.
The kittens were handed into the Archway-based charity along with their three other siblings Scout, Tux, Kisses and mum Mira – who all have the normal 18 digits.
"Although Boots and Mittens may look a little unusual, the extra toes do not affect their health in any way," Jen Harris, Manager at Cats Protection's North London Adoption Centre.
"There is a legend among sailors that polydactyl cats used to be ship's cats and the extra toes helped them climb the rigging.
"It's a nice story, but these cats do not have a greater climbing ability. It's neither an advantage nor a disadvantage – just an unusual quirk of nature."
Although not common, polydactyl cats and kittens can be found across the UK. It is a genetic condition that, in the majority of cases, causes no harm to the cat whatsoever, according to Cats Protection. Some polydactyl cats have just one extra toe on each paw but some can have two or even three extra on each foot. If a polydactyl cat has kittens, there is a good chance some of her kittens will also have the condition.
Mira, Scout, Tux, Kisses and Mittens have already found new loving homes and staff are sure Boots will not be in care for long.
Anyone interested in adopting Boots, or any of the other cats currently looking for homes at the North London centre can call 020 7272 6048 or by emailing northlondon@cats.org.uk
Anyone wishing to donate towards the kittens' care can do so by texting NLDN to 70577 to donate £5. To make a smaller or larger donation, people can visit: https://www.cats.org.uk/donate?b=375
More information about Cats Protection's North London Adoption Centre can be found here: https://www.cats.org.uk/northlondon
~ ends ~   
For further information or an interview, please contact Cats Protection's Media Office on 01825 741 911, at media.office@cats.org.uk, or @CPMediaTeam on Twitter.