An Exeter cat care centre has been getting crafty to ensure cats are kept entertained and no more PPE than absolutely necessary is used during lockdown.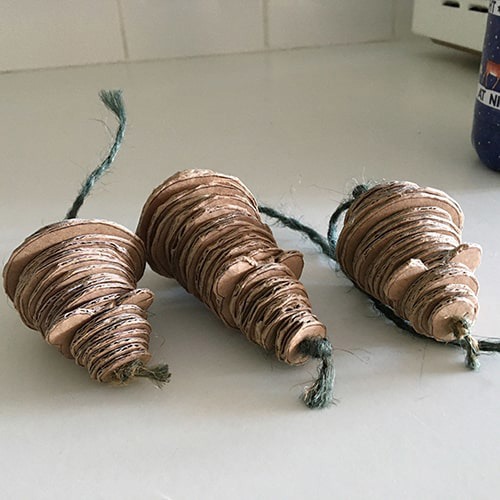 The team at Cats Protection's Exeter Axhayes Adoption Centre has been turning their hands to crafting to ensure they save any single-use Personal Protective Equipment (PPE) for emergencies and do not add to the demand on supplies.  They have also been creating homemade cat toys which are not only easily recyclable but can be discarded rather than requiring disinfectant.
The cat care assistants, receptionists and management team have created toy mice, catnip pouches, feather wands, scratch-pads, enrichment feeders and treat-hides from excess cardboard and household objects.  Instead of PPE they are using homemade aprons which have been sewn from vinyl.   
Adoption Centre Manager Mark Magee says: "I was so amazed with the results, they were clever, creative and most-importantly cat-safe.  Each one was a brilliant way to either keep our cats healthy or entertained while also reducing our waste and our need for essential resources like PPE that are needed so urgently by the NHS.
"We'd urge anyone who is keeping their cat indoors with them at present, either in support of self-isolation or because they are an indoor cat, to remember how important it is to keep your cat entertained.  They need to be able to express their natural behaviours such as searching for food, scratching to leave comforting scent marks, keeping their claws in good condition or chasing and catching prey, so these toys are perfect for that. And as we've proven they're not expensive; an empty egg box or toilet roll centre with a portion of your cat's daily dry food inside works brilliantly to keep cats foraging for food."        
In addition to creating the toys, the centre has been uploading videos by cat care assistants which show people how to make toys for their own cats. To find out how to make enrichment feeders and treat balls from leftover cardboard and yoghurt pots visit: https://youtu.be/yLnFCVfHJWs
For anyone wishing to help cats at the centre with a gift during lockdown, the staff have set up an Amazon Wishlist which can be found here: amzn.to/3bRFv1P and they ensure they use all cardboard packaging to make even more toys for the cats.
Anyone wishing to find out more about the centre, should visit www.cats.org.uk/axhayes or for any cat related advice or emergency care during the Covid-19 outbreak please visit https://www.cats.org.uk/help-and-advice/coronavirus or call the charity's central National Information Line on 03000 12 12 12.
Ends
Photos of the eco-friendly toys; how-to videos for a cat scratcher and egg box treat-hide as well as pictures of cats playing with toys can be downloaded here.
For more information or an interview please contact Cats Protection's Media Office on media.office@cats.org.uk or by calling 01825 741 911.