A local cat charity is hoping to raise funds needed to cover emergency veterinary treatment for a cat who needed to have a badly infected eye removed.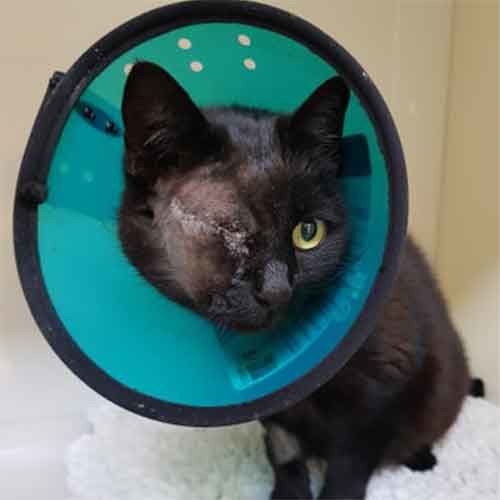 Ten-year-old Martha arrived at Cats Protection's Isle of Wight Adoption Centre last Monday but was quickly rushed to a local vets where she needed to have her eye removed, costing over £800.
"There was nothing that could be done to save Martha's eye," said Mel Read, Adoption Centre Manager.
"She needs to have daily antibiotics and eye drops until she's better but she's definitely on the road to recovery. Her surgery and aftercare is costing over £800 so any donation, no matter how small, will go a long way."
Martha will need to spend a couple more weeks in the charity's care while she fully recovers but as soon as she is back on all four paws, she'll be looking to find her forever home.
Mel added: "She really is a sweet-natured cat who is so gentle and we're sure she will be the perfect companion for someone."
Cats Protection celebrates its National Black Cat Day on Sunday 27 October and is hoping black cat Martha will have some luck in finding a new forever home this month.
Donations for Martha's surgery and aftercare can be made at https://www.justgiving.com/fundraising/iowcats and Gift Aid may be added to give more to the appeal at no extra cost. Any additional money raised will be used to help the other cats currently in the care of the centre.
Approximately 20p will feed a cat for a day, £1 could almost cover the cost of de-worming a cat, £5 could pay towards a veterinary health check for a kitten and £10 can help to provide specialist milk to keep a litter of orphaned kittens alive.
Anyone one interested in adopting Martha, once she's ready for homing, should call the centre on 03000 120 251 or email IsleOfWight@cats.org.uk.
More information about Cats Protection's Isle of Wight Adoption Centre, as well as other cats needing homes, can be found here: www.IsleofWight.cats.org.uk/
~ Ends ~

For media enquiries please contact Cats Protection's Media Office on 01825 741 911 or email media.office@cats.org.uk