A black-and-white cat, with exceedingly long whiskers, is hoping to find a forever home after ending up in a charity's care for the second time in just over a year.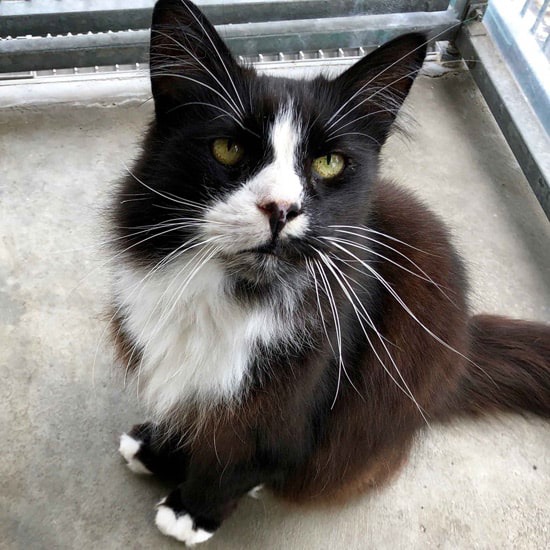 Thirteen-year-old Pepsi was handed into Cats Protection's Isle of Wight Adoption Centre last September and two months later, found a new loving home.
Unfortunately, he did not get on with neighbourhood cats and after struggling to settle in, went missing.
Cats Protection helped with searching for the missing moggy by delivering flyers and making posters.
A month later, there was a sighting of Pepsi and after he was caught, his owners decided that it would be best for Pepsi to go back into care so he could find a new home where he could feel at ease.
"Since coming back to our centre in May, Pepsi has settled in well and is showing his true loving character," said Mel Read, Manager at Cats Protection's Isle of Wight Adoption Centre.
"He's super affectionate and loves nothing more than a snooze on someone's lap.
"We hope to find Pepsi a home as soon as possible with a patient owner who is willing to spend some time keeping his lovely long coat silky and smooth and where he can rule the roost."
Staff describe long-whiskered Pepsi as being a very laid-back cat, who needs a quiet and calm home with a garden to explore once he has settled in.
Anyone who would like to meet Pepsi can visit the Isle of Wight centre Monday to Sunday, 11am to 4pm, apart from Tuesdays when the centre is closed. Alternatively, call the Isle of Wight Centre on 03000 120 251 or email Isleofwight@cats.org.uk
More information about Cats Protection's Isle of Wight Adoption Centre and other cats like Pepsi looking for homes can be found here: www.cats.org.uk/isleofwight
~ends~
For further information or an interview, please contact Cats Protection's Media Office on 01825 741 911, at media.office@cats.org.uk, or @CPMediaTeam on Twitter.