Six overlooked black and black-and-white cats are hoping to find their forever homes now that the summer holiday season is over.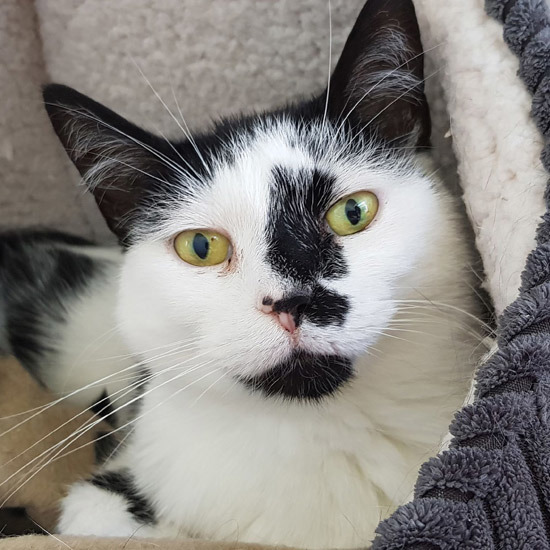 Six overlooked black and black-and-white cats are hoping to find their forever homes now that the summer holiday season is over.
Staff at Cats Protection's Isle of Wight Adoption Centre, in Ryde, were hoping the summer break would see six of their monochrome moggies find forever homes but despite many appeals, they are still in care.
Domino and Luma, Carling, Fluffy, Maurice and Olly have been at the centre for a combined total of over 550 days but it is hoped their luck will change soon.  
"We really hoped that the summer holidays would see some of our black or black-and-white cats go to new loving homes but a lot of them are still waiting," said Deputy Manager Jo Morrison.
"It's a sad fact that over 40 per cent of cats given up to our centres across the UK are black or black-and-white and they take longer to find new homes than cats of other colours.
"We think this is because black is a more common colour but we want to highlight just how individual each one is and hopefully find them new homes."
The centre has homed over 60 cats since 1 July but there has been no such luck for the monochrome six.
Domino (7) and Luma (6) – both Domino and Luma are sweet-natured cats who love nothing more than playing with their toys, including catnip mice and feathers. Domino is the more confident one of the pair and enjoys a snooze on someone's lap and Luma is slightly quieter but is still very loving. 
Carling (15) – currently in foster care, Carling is enjoying some home comforts while he finds his forever home. Carling is diabetic and has to have daily injections but he takes this in his stride and never seems to notice. He has been described as being one of the most loving cats and staff hope people are not put off by his medical condition, as they will provide plenty of support.
Fluffy (4) – despite her name, Fluffy is a shorthaired cat. She's has a gentle character and enjoys playing with toys. She is looking for a home where she can relax knowing she is the only pet, as she was previously bullied by a neighbourhood cat.
Maurice (7) – Maurice is a proud and independent cat who has been used to living in a semi-rural home. He's finding life in care a little difficult as he's used to having much more space to roam and explore. Known for stealing pens and pencils from his previous owners' desk, staff are sure he'd bring lots of fun and excitement to a new home.
Olly (3) – a very playful cat, Olly is looking for a home where he can play with his favourite toys. He is a very confident cat who loves a fuss but when he has to decide between cuddles or toys, playtime will always win. Getting slightly bored at the centre, staff are hoping the right owner will adopt him soon.
Anyone who would like to meet any of the monochrome moggies can visit the centre Monday to Sunday, 11am to 4pm, apart from Tuesdays when the centre is closed. Alternatively, call the Isle of Wight Centre on 03000 120 251 or email Isleofwight@cats.org.uk.
More information about Cats Protection's Isle of Wight Adoption Centre and other cats looking for homes can be found here: https://www.cats.org.uk/isleofwight
~ends~
For further information or an interview, please contact Cats Protection's Media Office on 01825 741 911, at media.office@cats.org.uk, or @CPMediaTeam on Twitter.