A huge thank you to all of Cats Protection's volunteers!
Now in its 33rd year, Volunteers' Week is an annual celebration of volunteering across the UK and an opportunity for all volunteer-involving organisations to celebrate the huge contribution and positive impact volunteers make.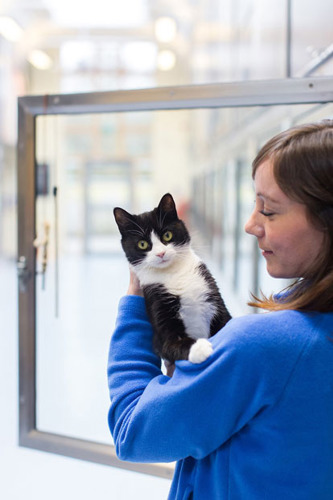 The importance of volunteers within Cats Protection cannot be overestimated. Set up in 1927 by a group of volunteers reacting to injustices they had seen in their community and beyond, this year sees Cats Protection celebrating a fantastic 90 years of working to change the lives of cats and kittens for the better. In the last year alone our volunteers contributed approximately five million hours in a wide variety of roles within branches, adoption centres, shops, our volunteer groups. Our volunteers donate time to help people to better understand cats, to help with neutering, helpline queries, health and safety and administration and our Trustees and Advisory Council.
We're now celebrating reaching the 10,000 volunteer milestone! The landmark figure means Cats Protection – which also celebrates its 90th anniversary this year – now has more volunteers than ever before helping to improve feline welfare across the UK.
Within any type of organisation it's not easy to say thank you in a way that means something to everyone (we're not very good at slow blinking, purring or head-butting like cats!) and while we know our volunteers don't do it for the 'thank you' we'd like to take this opportunity to express our sincere gratitude.
A huge thank you to each and every volunteer, past and present, who has contributed in whichever way they can to changing the lives of our feline friends.
If you would like to know more about how to join our amazing team of volunteers and the UK's biggest cat community please see our volunteering opportunities.