The volunteers who continue to rehome cats during COVID-19 through our hands-free homing scheme.
Delivery vehicles are a familiar sight these days but Jo Downing and Debbie Eyre are delivering something far more exciting than groceries or takeaways in their vans; they are bringing the gift of joy to families across Surrey and Sussex.
The Cats Protection volunteers are delivering rescue cats to their furever homes as part of the charity's successful new hands-free homing process.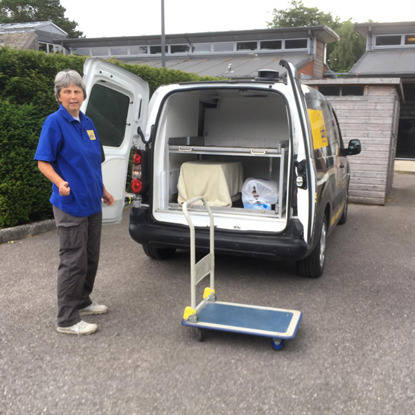 Jo Downing getting ready for a special delivery
Retired systems developer Jo, 59 from Lingfield in Surrey, has been volunteering for the charity since 2018 and was delighted when the launch of hands-free homing meant she could resume her volunteering duties, but this time as a driver.
She said: "I've been volunteering as a cat carer at the National Cat Adoption Centre in Sussex for two years and it's something I love doing, so it was hard when volunteering had to stop due to lockdown. When I was asked if I'd like to become a delivery driver for the new hands-free homing scheme, I jumped at the chance.
"After some training to ensure that the deliveries followed government guidelines on social distancing, I was off. It's such an amazing thing to do – people are so overjoyed so see their new cat – I really am delivering joy!
"One of my most memorable deliveries was Sootie who was exceedingly overweight when she arrived at the centre. She'd lost a few kilos during her time at the centre, but is still on the large side so had to be transported in a large cage as she wouldn't fit into a standard cat basket."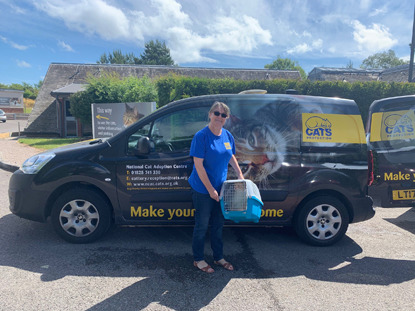 Debbie Eyre taking a lucky moggy to their new home
Fellow volunteer Debbie, 58 from Burgess Hill in Sussex, has three cats of her own, so appreciates the value they bring to homes.
She said: "Cats are such wonderful companions and I cannot imagine life without them. I love being involved with this new process; everyone has been so happy to receive their new cat. I can sometimes hear the cat in the back of the van and I like to talk to them and let them know they are nearly home.
"I arrived at one house and the owner was watching through the upstairs window, waiting for me to arrive. At another, I arrived at the same time as a lorry delivering a hoover – I felt quite sorry for the delivery man as they basically ignored him."
In normal times, Debbie volunteers at the National Cat Adoption Centre, overseeing paperwork for new admissions and adoptions. She said: "I cannot wait to get back to my usual role so I can learn how the cats I delivered are getting on. When you have direct contact with a cat you always want to know more afterwards. It's nice to see all the cats and watch their progress and it's wonderful to be part of an amazing charity and get to know everyone too."
Since the start of the lockdown, Cats Protection has homed over 2,500 cats through hands-free homing, which enables people to meet and adopt cats while adoption centres remain closed to the public. The process matches a cat's needs with the lifestyle of an interested cat lover and if compatible, the cat is safely delivered to their new home.
To find out how to adopt a cat through hands-free homing in your area, visit www.cats.org.uk/adopt-a-cat