Lost tabby cat Alice is reunited with her family thanks to being microchipped.
This post has been written by cat lover Jill Barnes
I live in Croydon and have three cats and a Westie dog. In the early evening of 27 March at around 6.30pm, our eldest cat of 12 years, a longhaired dark tabby female, went missing. She did not come in that night and we were concerned. Her name is Alice.
She has always lived here and is well known in the immediate area. It was as if she had completely vanished into thin air. Despite a monumental effort to find her – putting up posters, contacting vets, rescue centres, microchip databases, newsagents' windows, door-to-door enquiries, garages and sheds opened, more than once – there was no sign of her. She is a splendid looking cat with a big bushy tail, long black stockings and a feisty personality. She is also the matriarch of this family and keeps an eye on everyone. She watches us out and she watches us back. She is definitely top cat! We were distraught at her loss and were determined not to give up hope. I always believed she would be found. The key was her microchip.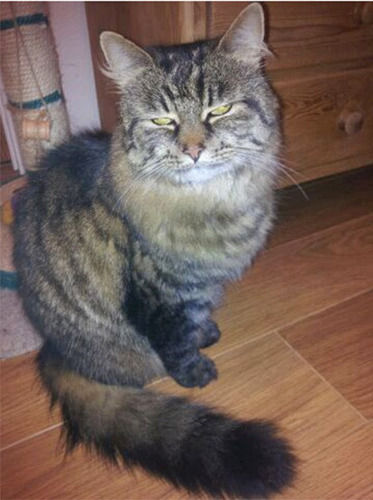 Alice has been reunited with her owners, thanks to her microchip
Four weeks later, a veterinary nurse from Mead Vets in Dartford (20-odd miles away) rang me to say she thought they had our cat. Indeed they did! Unhurt, bewildered and thin, it was a miracle she had not come to any harm. How she got to Dartford we will never know and can only guess.
Here is my supposition of events:
Alice gets into a delivery van near our house to have a snooze. Suddenly the doors are closed, the driver jumps in and starts the engine. Radio blaring, he travels to Dartford. On arrival, the doors are opened and out shoots Alice.
For three weeks she travels alone – maybe stealing food via cat flaps – catching the odd mouse, being shooed away from houses, sheltering in local woods (our poor pampered Alice!) wondering "where is this place?". Until one day she ventures down from the woods into the large garden of a kind lady who owns five cats. Alice mucks in with them and the lady treats her with food and cuddles, realising this must be a domestic pet that has lost her way. Lady keeps hold of her for five days thinking she doesn't really want six cats! She then scoops her up and takes her to the local vet surgery where her microchip is scanned and read with resounding results!
My husband went up to Dartford to collect her that same afternoon, 25 April. Four weeks after Alice went missing she is back home and although she took a little time to recover, she was eating normally within three days and loving being in her own soft bed again. She is once more ruling the roost!
The moral of this story is that yes, that kind lady does exist and her decision to take Alice to the vets to be scanned has allowed her to be back home where she belongs. So many thanks to her.
All my pets are microchipped and Alice's story goes to prove how important this is. All cats rehomed by Cats Protection are microchipped too, which is such a necessary part of owning animals, so they can be traced and returned, just like our Alice. Without it we would never have seen her again.
This post has been written by a guest blogger. The views expressed in this post do not necessarily reflect the views of Cats Protection.