Why you shouldn't buy lilies for your cat-loving mum this Mother's Day.
If you don't already have it listed in your calendar, Mother's Day is coming up this Sunday. For many, it will be an opportunity to give thanks to the female in your life with a small gift – whether that means a box of chocolates or a big bunch of flowers.
If you are thinking of purchasing a bunch of blooms, however, you might want to think twice if the household has cats. Some flowers, lilies in particular, are poisonous to cats and can cause serious illness if a cat ingests them.
For one cat-owner, this became an unfortunate reality. Lisa Clark from Kirton Lindsey in Lincolnshire adopted a grey kitten called Arthur from Cats Protection last year. A few months into living with her, Arthur jumped onto the kitchen worktop and ate some lilies that were on there.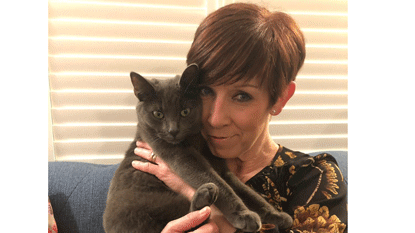 Thankfully, Lisa remembered that lily pollen is toxic to cats. She rang the vets, who told her to bring him in immediately. Within two hours, he had been washed and hooked up to a drip. Lisa was told he would have to stay overnight at the vets.
After spending over £700 to treat Arthur, Lisa bought him home. He then received follow-up blood tests, which thankfully confirmed that he was in the clear.
Lisa said: "It was so lucky I remembered or it could have been a very different outcome for poor Arthur.
"It's not something that's widely known so I think all flower sellers should make their customers aware of the dangers."
Which flowers are dangerous to cats?
While lilies are the most toxic, you'll need to be wary of other blooms that could be contained in your Mother's Day bouquet. Common flowers like poppies and peonies can cause illness or irritation in felines. Even house plants like dumb cane can be harmful.
If you're worried about knowing what types of flowers to choose for Mother's Day, take a look at our video on how to make a cat-safe bouquet.

What are the signs of poisoning in my cat?
If you think that your cat has been poisoned, contact your vet immediately. Don't wait for symptoms, which can include:
salivation
vomiting
diarrhoea
twitching
fitting
breathing difficulties
shock
collapse
coma
For more advice on the specific flowers and plants that can be dangerous to cats, visit our website at https://www.cats.org.uk/help-and-advice/home-and-environment/dangerous-plants