Battered kitten found on a main A-road after being hit by a car
*Update – 20 October 2020*
Emba the kitten has made a dramatic recovery after being scooped up off the busy A22 with trauma to her face and a badly smashed hind leg.
Her cash-strapped rescuers at our Sutton, Kingston & District Branch launched a public appeal to fund her intensive medical treatment and specialist aftercare, and were overwhelmed to receive donations totalling £3,250 within a matter of weeks from kind cat lovers across the UK.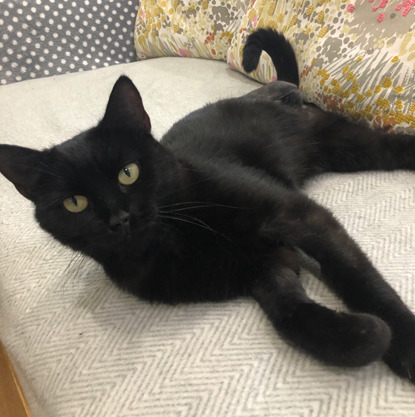 "Our supporters always come to our aid but their response has been quite amazing," said Branch Coordinator Stella Fenwick. "Emba's vet bill exceeded original expectations so the money nearly covers our costs. We are grateful to everyone who donated sums large and small. Thanks to them, Emba can have a happy life."
Now six months old, Emba has had her leg amputated and received extensive dental work and lots of TLC. She has made a remarkable recovery and is living with a branch fosterer who can help her cope with the trauma and encourage better mobility as a recent amputee.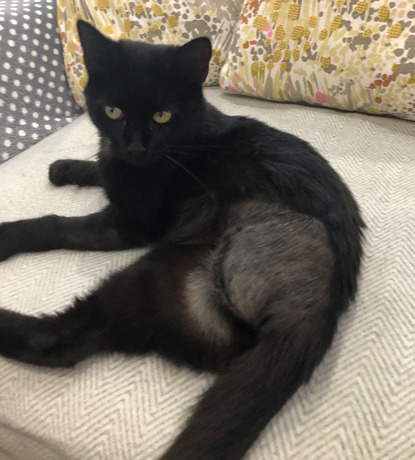 Emba's fosterer Elaine said: "The noise from cars scares her still, which is quite understandable, and she isn't keen on going near windows. But in the last few days she has behaved like a normal kitten, running around and playing with her toys in the early hours. She is growing in confidence and has learned to jump up on furniture and lean against walls for extra support as she runs around on three legs."  
Cats Protection's Regional Fundraising Manager Jessica Watkins said: "This level of care puts a great drain on branch funds. We haven't been able to fundraise as normal, so we are grateful for our loyal supporters who have come through for Emba. They've made a real difference for this poor little mite and enabled the branch to continue caring for cats in Surrey."
Read on for our original blog post about Emba…
A badly injured kitten originally mistaken for a pile of rags on a Kent road needed major surgery after being taken in by Cats Protection's Sutton, Kingston & District Branch.
Emba the kitten was a pitiful sight when she was found huddled on the central reservation of the A22, on the Kent-Surrey border.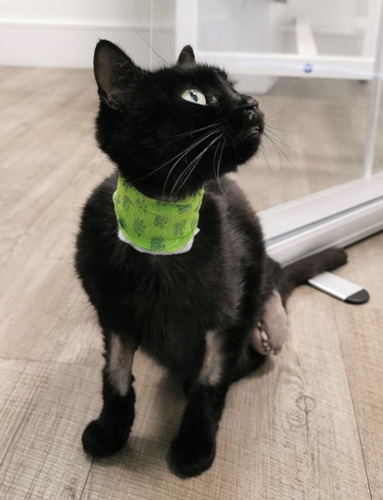 Her rescuers spotted what they thought was a bundle of discarded clothing but were shocked to discover it was a small black cat crying out for help.
Unable to resist the poorly kitten, they scooped her up and rushed to Mavern Vets in Sutton, who called in Cats Protection for support.
Close examination revealed that the kitten was no more than five months old and had sustained trauma to her face and hind leg, most likely from being hit by a passing car on the busy road.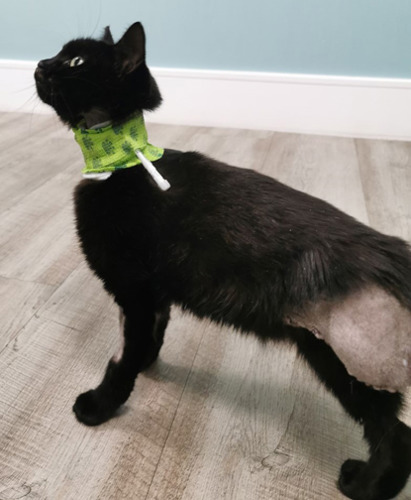 The leg was broken in several places and the vet decided the best action for her recovery and welfare was to amputate the leg.
Her young age meant that Emba was likely to get back on her paws more quickly with three good legs rather than having to undergo multiple procedures and months of rehabilitation on a shattered one.
As if that were not enough, Emba's jaw was smashed and many tiny teeth were broken or falling out, which meant she also had to undergo significant dental work and reconstruction.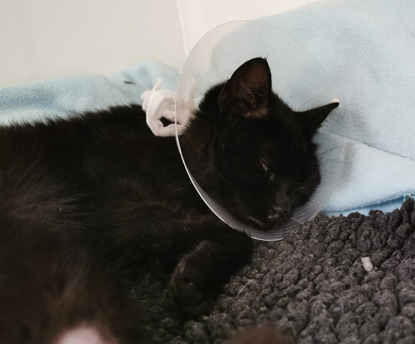 Just weeks later, Emba is recovering well. Her stitches have been removed and she is with a fosterer, learning to use her tail to balance against the missing leg.
But Emba's treatment has cost the branch dearly and carers are appealing for donations to pay for her treatment and recovery.
Jessica Watkins, Cats Protection's Regional Fundraising Manager, said: "The strength of Emba's spirit is incredible. She's been through the wars and has the scars to prove it. But she's a survivor, a little fighter. The treatment has already cost more than £2,500, a significant sum for any charity even at the best of times."
"But these aren't normal times. We haven't been able to fundraise as normal, with events such as the London Marathon and our summer fairs cancelled. So we are appealing to our loyal supporters to help fund Emba's treatment. Any donation large or small will help Emba and enable us to continue caring for local cats."
If you would like to donate towards Emba's care, you can visit the branch's JustGiving appeal.
Once she recovers fully, Emba will be available for rehoming under Cats Protection's contactless hands-free homing process, which matches cats online with interested new owners. If you would like to offer Emba a home, keep an eye on the branch's website for more details.
To find cats looking for homes in your area, visit www.cats.org.uk/adopt-a-cat