A Cats Protection adoption centre is caring for a tiny kitten that was trapped in a car engine for three days.
The black-and-white cat, dubbed Shell by Bridgend Adoption Centre staff, was discovered by local resident Caroline Roberts earlier in September, after she heard meowing. Caroline had searched her area trying to track down the source of the noise without success.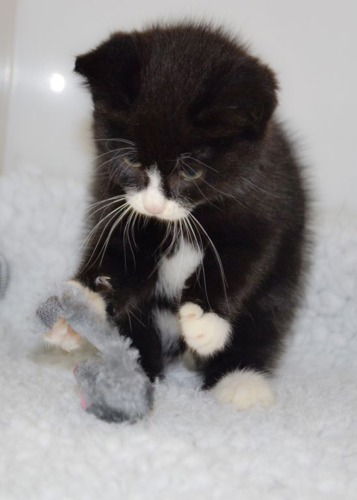 Shell is in better health, thanks to Cats Protection
One evening, she was standing next to her neighbour's car when she realised the meows were coming from the vehicle.
Caroline's neighbour was shocked – she'd recently taken the car on a 14-mile journey.
Luckily, Caroline's husband Norman is a car mechanic and he set about trying to free the tiny creature. It was something of a challenge; taking an hour and needing the help of four neighbours. Finally, the 10-week-old kitten was freed.
Norman said: "It's great to have been involved with my wife in the rescue of this little kitten."
The kitten, named Shell by staff at the centre because of the oil covering her coat, is very fortunate to have survived her ordeal. She was terrified, dehydrated, and underweight when admitted to the centre, but after a warm bath and lots of care she is well on the way to recovery.Best of all, Shell has a new home. Centre manager Sue Dobbs said: "Norman and Caroline Roberts are going to adopt Shell, once she is well enough and a home visit is done."