Introducing our new exhibitions stand making its debut at the Spring Knitting & Stitching Show.
This post has been written by Cats Protection's Shows & Exhibitions Manager, Emma Osborne
Much as I love my job I always heave a bit of a sigh of relief when the end of November rolls by each year as that's when the CP show comes off the road for the winter. Not that winter is a quiet time – far from it! There's a huge amount of planning needed for each year's season which, due to the variety of indoor and outdoor events that CP attends centrally, now starts in early March.
I manage Cats Protection's presence at a range of large consumer shows that are often held in big venues like the NEC in Birmingham. We go to these events to put the CP brand in front of a large, sometimes national audience and encourage support for our work on a big scale.
Cats Protection's new indoor shows stand
After a few years in the job I've developed a routine for winter, which helps to ensure that we keep on track and have everything ready to put the show on the road. This year, what with all the new and exciting activities that CP has planned for 2016, there's a little more pressure to realise the shows' potential as a communications medium for both internal and external audiences. But I'm seeing it as a challenge and have been enjoying meeting new and old colleagues recently to find out a bit more about their plans for 2016 and to see how the shows can help bring all the great work we do with and for cats to our stand visitors' attention.
This year we're looking forward to working with some of our new branch development colleagues on the stand; their plan is to use some of the shows as one of a number of Cats Protection volunteer recruitment activities. It doesn't matter though if staff or volunteers can't make a show – our experienced team are happy to support the network with any useful or relevant messaging for a particular event. The shows team attends an annual training day and are briefed in advance of each event. So whether there's a new homing centre opening in the area, a local neutering campaign, or some new educational video content to promote via our iPad or screen, we're confident that the team will do their best to ensure that our messages get out there.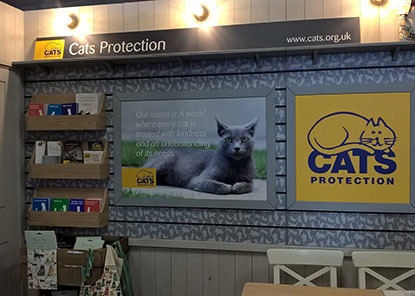 Cats Protection's stand information corner
We always enjoy meeting a good number of well-wishers at all the shows; sometimes our supporters and members, and at other times those who have been helped out with a cat-related issue by our network. It's gratifying to know that in the vast majority of cases the charity – and the cats of course – are respected and valued. People seem to like meeting us at events, even if they're initially surprised that we're at a food or knitting show! We're rarely short of stand visitors or cat stories!
In keeping with our strategic objective of raising awareness of the charity and its work, we're expanding the shows programme this year and plan to attend around 20 events. As well as the perennially popular Knitting & Stitching and BBC Good Food Shows, we'll be making an appearance at several 'new to CP' events including Gardening Scotland, RHS Malvern and the Norfolk and Cheshire county shows. Wherever we go the shows' aims remain the same: to support the work done by volunteers and staff in the area or region, and to strengthen awareness of the charity.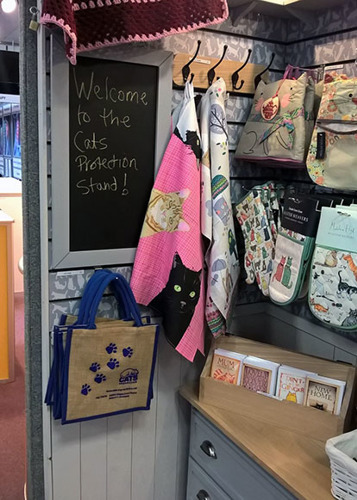 Welcome to the Cats Protection stand!
So it's gearing up to be an exciting year! Key to our impact at the shows is 'the look' of our stand which, along with our merchandise range, I need to keep fresh, innovative and in keeping with the show in order to attract people to the stand to talk to us. We're thrilled that over winter, our events contractor has been busy making us two new stands – one for use at indoor shows and the other for outdoor events. The photographs show the new indoor stand making its debut at the Spring Knitting & Stitching Show recently at Olympia where, as always, we were very well received. We're so looking forward to showcasing it again at the inaugural Edinburgh Knitting & Stitching Show next month – ditto with the outdoor stand at RHS Malvern in May.
I'm looking forward to bringing you regular updates about the shows as the year progresses and hope to meet lots of you at the various venues we'll be visiting.