Looking for the best cat toys, beds, scratch posts and more? Discover Cats Protection's new range of cat supplies
Making sure you kit out your kitty with everything they need to keep them cosy and entertained is an important part of being a cat owner.
With so many different products to choose from, it can be difficult to find items that are practical for your cat and will look stylish in your home.
Cats Protection's new Cat Care Collection is a handy one-stop shop for essential cat accessories. The beautiful range features 18 different products that are approved by vets and designed specifically with cats in mind.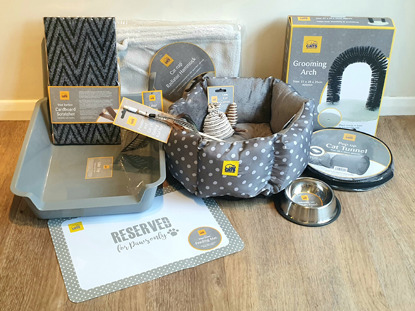 There's comfy cat beds, a selection of fun toys and even a play tunnel for your feline friend to explore! Plus lots of practical items like a non-slip scratching post and a litter tray that's suitable for young kittens as well as mature moggies.
Not only will you be creating a pawsome paradise for you cat, but you'll also be helping other kitties who are less fortunate. All of the profits from this new range are spent on the cats and kittens in Cats Protection's care, providing them with all the food, warmth and love they need until they find their forever homes.
Fun fishing rod toys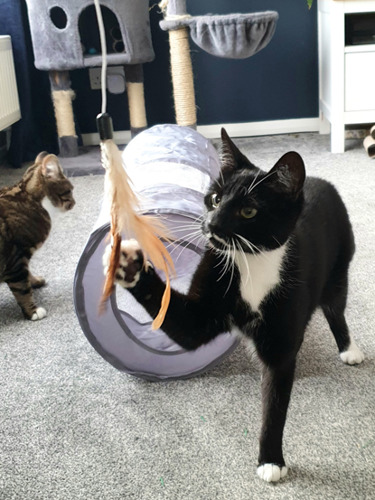 Fishing rod toys are purrfect for getting your cat interested in playtime as they won't be able to resist stalking and pouncing on the dangling toy as you drag it along the floor. Not only will this encourage physical exercise and mental stimulation, but it's also a great way to bond with your kitty. The collection includes a feather fishing rod, as well as one featuring a mouse toy.
Fabulous fleece blanket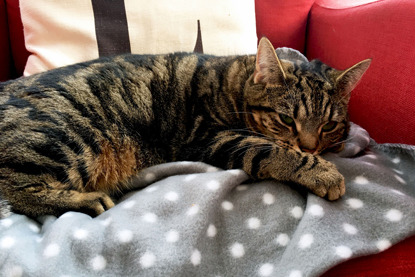 A soft, warm fleece blanket is essential for a good cat nap, but it's not just your moggy who will love this cosy delight. The stylish grey polka-dot design will look great draped over your sofa or chairs, helping to keep them free from fur.
Cosy igloo bed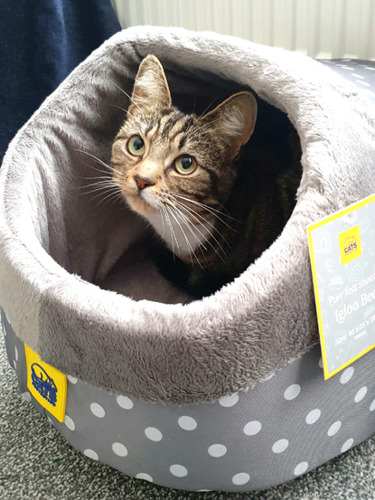 Cats love to hide away when they snooze, as it helps them feel safe and secure as well as keeping them cosy and warm. This comfortable igloo bed, with its chic grey polka-dot design, is the ideal place for them to get some peace and quiet at naptime. You could even line it with the matching fleece blanket!
Handy grooming arch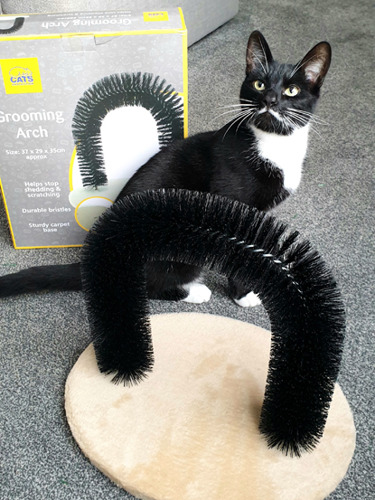 Help your cat keep their fur in fine condition with this useful grooming arch. They'll love rubbing against its durable bristles, designed to stop them shedding and scratching around your home.
Irresistible catnip toys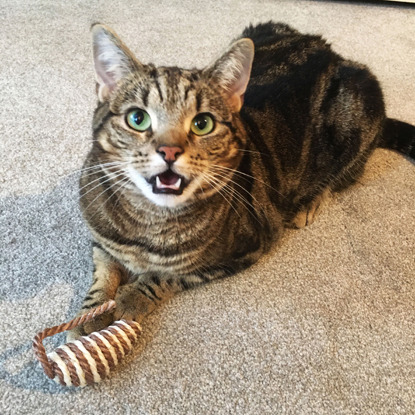 If your moggy is partial to a bit of catnip, then our range of toys will certainly drive them wild. From a simple catnip sack to cute catnip mice, there's lots of options to get their bum wiggling in preparation to pounce.
Pop-up play tunnel
Hiding away and then pouncing out on unsuspecting toys is a favourite cat pastime, so they'll have endless fun and games with this pop-up tunnel. Plus, it's easy to fold and store away when playtime turns to naptime.
To get your paws on these fantastic moggy must-haves plus lots more cat accessories, visit www.cats.org.uk/shop