Cat quiz: How much do you know about cats in pop culture?
Think you know everything about cats from film, TV, music, literature and sport? Put your knowledge to the test with 10 questions from our Black Cat Quiz!
It's National Black Cat Day on Sunday 27 October and we're inviting you to celebrate by hosting your own quiz to help dark-furred felines in need.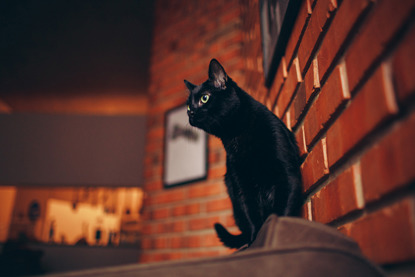 Get together with friends, become quizmaster for a day and have a fun time while fundraising for Cats Protection and the beautiful black cats in our care.
But first, find out if you're an amateur egghead or a trivia top cat with these 10 questions. Answers are at the bottom of the page... No cheating!
1. Which cartoon cat's favourite food is lasagne?


2. What is the nickname of the England women's football team?
3. In Alice in Wonderland, what is the Cheshire Cat's special power?


4. Which character performs Memory in the popular musical Cats?
5. Shere Khan is the famous tiger in the novel The Jungle Book. Who wrote it?


6. What's New Pussycat? was the name of which singer's second album?
7. Who is the voice of Puss in Boots in the 2011 animated film?
8. What was internet sensation Grumpy Cat's real name?
9. Tony the Tiger was the mascot of which Kellogg's cereal?
10. What is the name of the cat that lives at 10 Downing Street?
Well done! Tot up your score with the answers below and if you enjoyed it, then why not challenge your friends with your own cat quiz event?
Sign up to host your own cat-themed quiz
Register to host your own Black Cat Quiz this October.
Answers: 1. Garfield, 2. The Lionesses, 3. Invisibility, 4. Grizabella, 5. Rudyard Kipling, 6. Tom Jones, 7. Antonio Banderas, 8. Tardar Sauce, 9. Frosted Flakes or Frosties, 10. Larry.