We get to see what it's really like to volunteer for a Cats Protection branch.
Jess Hall of our Volunteering Development Team spends some time with her local branch
Working within the Volunteering Development Team at the National Cat Centre, I always embrace and thoroughly enjoy the opportunity to meet Cats Protection volunteers. For me, it is the only way to properly understand what volunteering means to people and to gain an in-depth knowledge of the breadth of activities involved in our diverse range of volunteering roles, as well as the issues and struggles that are associated with these.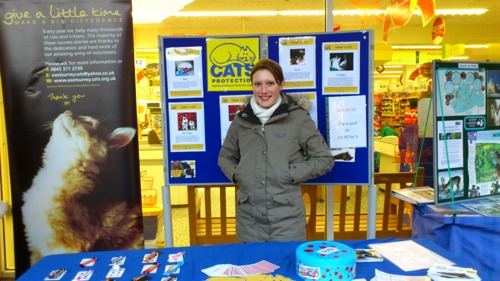 Jess helping out at the branch's recent Christmas Fair
The Co-ordinator of my local branch, Jacky Eyres, was happy for me to get involved with the Caterham, Redhill & East Surrey Branch to know them better and to offer my help wherever I could – having two cats of my own, I wasn't afraid to get my hands dirty! Having visited a number of Fosterers and Cat Care Volunteers before, I was keen to learn about the more 'behind-the-scenes' roles. The following volunteers kindly gave up their time to meet with me, to tell me a bit more about what they do.
Since joining the branch Jacky has worked very hard to make it the success it is today. As well as having a part-time job, Jacky manages the branch and Homing Team. Working closely with the Welfare Team, Jacky ensures that cats in the care of the group are matched with homes appropriately and as quickly as possible, in line with CP policies and procedures. Jacky and her team have homed a whopping 205 cats already this year and this number continues to rise.
Julia Dallosso – Branch Secretary and Media Volunteer
As branch secretary, Julia is on the branch committee, she writes the agenda for the committee meetings and produces the minutes, which she shares with the branch and also the Regional Development Manager, Christine Harvey. Julia creates and distributes the Home Visitor Packs, to the Home Visitors as and, when required, takes photographs of cats to put on the homing pages of the branch website. She also writes and produces the branch newsletter, Paw Prints.
Although Julia's role could be viewed as a behind-the-scenes role, she uses her high level of skills and professionalism to promote the work of the branch and raise awareness of the missions of the charity. As well as carrying out her volunteering work, Julia is also the proud owner of an infamous tabby-and-white cat named Rolo.
Not satisfied with winning a photograph competition, Rolo went on to star in the charity's The Cat magazine, nationally printed insurance leaflets and, perhaps most impressively of all, currently drives around on a daily basis, stretched out on the side of Bournemouth branch's van, helping to support his feline friends and spread the CP word, across the country! Wow, what a cat... he even has his very own celebrity fan club, despite all this though, he takes celebrity life on the chin and refuses to let it change him.
Jean Bailey – Welfare Co-ordinator
I helped Jean 'bring in' two unwanted cats into CP care. After picking up the cats, we took them straight to the vets to be checked over. I also popped in to Jean's house to visit some kittens that she was fostering. To get to the kittens, however, I had to carefully step over Jean's famous little 'lady who lives on the stairs.' Found, abandoned and unwanted in a garden, a very poorly and frail little old lady called Beatrice was rescued by the branch. It was love at first site for both Jean and Beatrice, who now share their lives together. Occasionally stepping outside for a breath of fresh air, Beatrice spends most of her happy and contented days, curled up, fast asleep on her stairs.
Marion Harris – Lost and Found
The lovely Marion manages the Lost and Found register for the branch, taking enquiries in from members of the public. She keeps the register up to date and, even though she told me she was no good with technology, she does a great job at keeping the website up to date too!
Pat Crothers – Fostering Supplies Co-ordinator
I had heard many rumours about the wonderful Pat and her amazingly well-organised lockup storage garages, so I was very much looking forward to meeting her and seeing for myself. Meeting at Tesco, we helped Pat empty the bin of cat food, kindly donated by members of the public. Once we filled the car, we went down the very narrow lane to the garages. Wow, I didn't realise I could be amazed by a garage, but this one was different; every pack, sachet, box and tin was meticulously organised in rat-proof filing cabinets and the other one looked like a cat's play house, full of toys and everything you need to care for a cat. After sorting the food, we dropped off some sensitivity food to Marion, currently fostering two very playful sisters, looking for a new home.
Neutering role
To really experience what it feels like to be a part of a CP branch, I have taken on the role of Neutering Volunteer, helping to support Angie who was finding juggling the role with her work a little too much. Angie kindly went through the role with me and gave me everything I needed to get going.
In this role, I will be promoting our neutering voucher scheme, issuing vouchers, following up on whether these vouchers have been used and responding to general enquiries from the public about neutering. I will also be working alongside the welfare and rehoming teams to ensure that all cats and kittens are neutered in line with Cats Protection policy.
I will let you know how it goes!