What's it like to work at Cats Protection?
It's the International Week of Happiness at Work and in our opinion there's no better way to find job satisfaction than working with cats!
Our employees at Cats Protection can testify that a career with cats is truly rewarding so we asked them what makes their role positively purrfect…
Sue Dobbs – Bridgend Adoption Centre Manager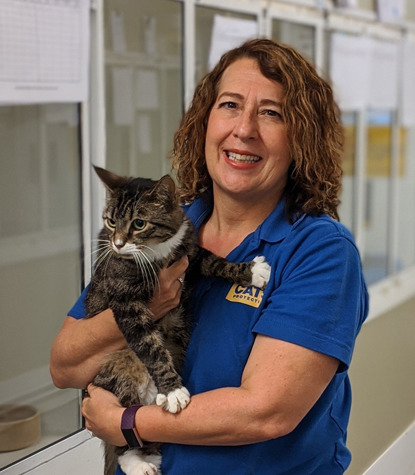 Sue Dobbs with Cookie
"My role as Centre Manager is at the heart of the work Cats Protection does and has a direct benefit on cats through helping unwanted cats and kittens find their forever home. It also benefits cats by enabling me to share case studies from the centre, highlighting cat welfare issues and getting key messages out to the public, helping to improve cat welfare regionally and nationally. 
"I have been working for Cats Protection for 22 years and my favourite thing is making a real difference to people and cats on a daily basis. I find it very rewarding when a cat is admitted into our care bedraggled and in poor condition, and we nurse it back to full health and rehome it. I particularly love receiving videos and photos of them settled in their forever homes.
"I consider myself very fortunate to be able to say that I love my job. It is very varied and no two days are the same. The job can be challenging and stressful at times and there have been good times and bad times but I believe that it is a privilege to be the Bridgend Adoption Centre Manager and to head up our amazing team of employees and volunteers to help cats and people in our local community, I am extremely proud of team Bridgend."
Helen Waterman – IT Project & Documentation Officer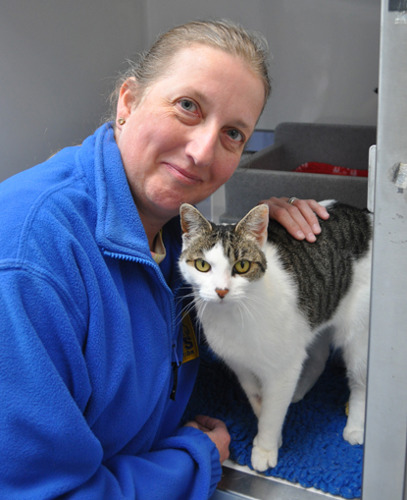 Helen Waterman with Willow
"My role provides Cats Protection employees with technology to improve their IT processes, ultimately giving them time back for the cats. My favourite thing about the role is knowing that the work I do in IT helps employees provide a more effective and efficient service to Cats Protection customers/adopters and suppliers, allowing more time to be focused on the cats in our care."
Dr Jennifer McDonald BSc MSc PhD – Feline Epidemiologist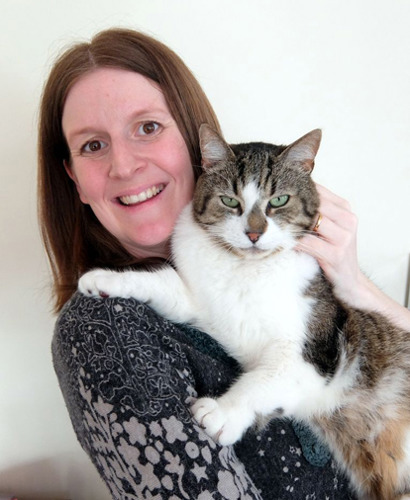 Jennifer McDonald with Mac
"Although roles are diverse everyone at Cats Protection is working towards the common goal of improving cat welfare, so immediately we all share common values. I find immense enjoyment from applying my research skills to help understand more about cats to benefit their welfare.
"If I could have made up my perfect job, this would be it. I work for an organisation and within a department that shares my passion for cat welfare and I get to apply my academic skillset to help answer meaningful questions on all things cats, which have the potential to have a real positive impact on their welfare."
Edward Blackwell – Dual-site Shop Manager (Wolverhampton and Stourbridge)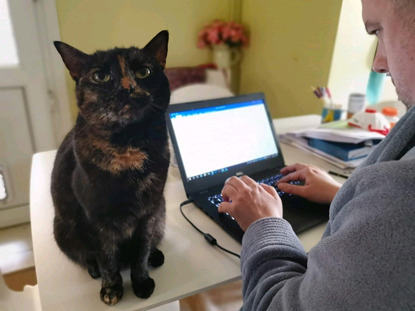 Edward Blackwell hard at work with his cat companion
"It's the people that make it purrfect for me. Cats Protection is very good at saying "thank you" and "well done". This is often forgotten in life. This means a lot to me, and I have huge respect for #TeamCP. We have knowledgeable and experienced senior retail leaders, who don't just talk the talk. They have been there and done it themselves so this also generates respect. 
"This is the first organisation where the head of retail has made the effort to engage with me and has personally thanked me on many occasions for my hard work. They are all approachable and we really are one big team. I will always be grateful to Cats Protection for giving me the chance to work for such an amazing organisation!"
SuiLi Weight – Cat Welfare Learning Officer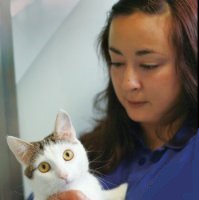 SuLi Weight with a Cats Protection cat
"My current role helps cats by teaching an understanding of good cat welfare to the employees and volunteers looking after them, to better understand the reasons for our policies and procedures. This benefits the cats directly in Cats Protection care and also the wider cat population, both owned and unowned, as these people educate and pass the good welfare messages out to the public too.
"I love the impact that this role has to help cat welfare, both for those in Cats Protection care and beyond. It is wonderful to have the opportunity to speak to the employees and volunteers working on the 'front line' and help them to learn and develop, and help with any issues they might have."
Lizanne Frawley – Learning & Development Specialist
"My role supports the people who use their talents and skills to create the impact for cats. My favourite thing is when someone says they have had a 'lightbulb' moment on one of our courses. It's re-motivating every time in knowing they have an impact. It's my purrfect job because it matters."
If you're interested in a career with cats, visit https://careers.cats.org.uk/ to find the purrfect job for you.